International Student Mobility and Internationalisation of Universities - The role of serendipity, risk and uncertainty in student mobility and the development of cosmopolitan mind-sets through knowledge and intercultural competence. Employability, students' future mobility aspirations and the EU's support of international student mobility
(2014)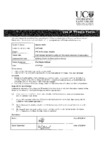 Type of Content
Theses / Dissertations
Thesis Discipline
European Studies
Degree Name
Doctor of Philosophy
Publisher
University of Canterbury. National Centre for Research on Europe
Collections
Abstract
The background to this study lies in the discrepancy between the perceptions of international student mobility in the context of the internationalisation of higher education by the EU and universities on one hand and international students themselves in terms of their motivations to study abroad on the other hand. This is a comparative study based on three main case studies, of six universities in New Zealand, Oxford University in the UK and the Charles University in the Czech Republic. It explores the students' experiences abroad in terms of their intercultural competence, the shaping of identities, the acquisition and transfer of knowledge, the possible forming of cosmopolitan mind-sets and empathy, perceptions of employability and their future mobility aspirations. This thesis also considers the barriers and 'push and pull' factors of mobility, perceptions of risk and uncertainty in regards to mobility and the role of serendipity in student mobility, which has been overlooked in the literature on mobility and migration.
The theoretical framework of the study builds on social capital theory, Europeanisation and the 'do-it-yourself biography' theory. The nature of this topic, however, suggested the employment of the concepts of globalisation, transnationalism and consideration of other forms of capital, such as the total human capital, mobility capital and transnational identity capital.
This is predominantly a qualitative, mixed-method and longitudinal research project, which uses surveys, case studies, interviews and the data collecting tool called grounded theory. It triangulates data to support and enhance the analytical validity of the thesis.
This research concludes that student experiences abroad as well as the internationalisation efforts of universities and the EU would benefit from the introduction of education for global citizenship, which should focus on the intercultural competencies of students. The thesis suggests sociocultural elements for example the cosmopolitan mind-set can enhance the economic, academic and political rationales of internationalisation, such as employability.
Keywords
inernational student mobility; internationalisation of universities; serendipity; European Union; motivations to study abroad; 'push and pull' factors of mobility; intercultural competence; acquisition and transfer of knowledge and skills; identity; future mobility aspirations; cosmopolitan mind-set; empathy
Rights
Copyright Gabriel Weibl
Related items
Showing items related by title, author, creator and subject.
Arrington-Tsao, Betsy Alleen

(

University of Canterbury. Educational Studies and Leadership

,

2013

)

The purpose of this study was to produce five in-depth case studies of University of Georgia, USA, students who studied abroad for one semester in Spring of 2006. These case studies describe and analyze the students' ...

Tackling the challenge of climate change and the need for better urban mobility requires the promotion of sustainable transport modes across New Zealand. Research conducted through this project extends the literature on ...

Mander, Kirsten Jane

(

University of Canterbury. National Centre for Research on Europe

,

2013

)

As the European Year of Citizens (2013) dawns, the European Union (EU) finds itself at a crossroads. One of the largest international organisations in the world, it has built a reputation as an international community model ...