The effect of different observational session lengths on the representativeness of behavioural data
(1987)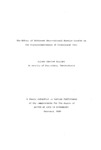 View/Open
Type of Content
Theses / Dissertations
Thesis Discipline
Psychology
Degree Name
Master of Arts
Publisher
University of Canterbury
Language
English
Collections
Abstract
The representativeness of behavioural observation samples with durations of less than the whole time of interest was investigated. A real-time recording system was developed to quantify the performance of five profoundly mentally retarded physically handicapped adult students in an institutional training setting. Performance was measured on six mutually exclusive and exhaustive behaviour categories throughout 2. 5-hour morning and afternoon training sessions with each subject. Passive behaviour, i.e. 1 doing nothing, was .the most predominant category (mean= 46% of session). Sample observation sessions with durations ranging from 15 to 135 minutes were computer­ simulated from the whole session ( 150 minute> records. It was found that the representativeness of these samples, when compared t-0 the whole session, was a function of the relative duration of the behavioural categories and of sample duration. The occurrence of high relative duration behaviours ( >50% of a session> was estimated to within 20% error by samples of less than 60-minute but low relative duration behaviours ( 1-3%) were inadequately quantified even from 135-minute samples. Implications of the findings for behaviour analysts were discussed with the recommendation that the adequacy of observational session duration should routinely be empirically determined.
Keywords
Psychology--Methodology; Sampling (Statistics); People with mental disabilities
Rights
All Rights Reserved
Related items
Showing items related by title, author, creator and subject.
Clarke, Graeme Stuart

(

1978

)

Attendant-resident interaction and adaptive behaviour of residents were examined in a typical villa for low­ ability mentally retarded in a New Zealand residential institution. A series of three studies were undertaken. Initially ...

Jones, Linzi J.

(

University of Canterbury

,

1987

)

The effects of gentle teaching and visual screening on the self-injurious and collateral behaviours of three profoundly retarded persons was evaluated using an alternating treatments design. Visual screening and gentle ...

Stenhouse, Kirk Francis

(

University of Canterbury

,

1999

)

Direct Interaction theories of Hermstein and later Williams and Wixted see contrast as due to the direct effects of reinforcement in one component on responding in another component despite temporal separation in the ...