The collapse of a superpower : the fall of communism, the military, and the threat of a coup in Russia, 1992-1996
(1999)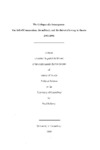 View/Open
Type of Content
Theses / Dissertations
Thesis Discipline
Political Science
Degree Name
Master of Arts
Publisher
University of Canterbury
Language
English
Collections
Abstract
This thesis examines the impact of regime transitions on the military, and the likelihood of a military coup. This examination is conducted within the context of the fall of Communism in the Soviet Union and the post-Soviet Russian Federation. The thesis examines the 1985 to 1996 period, and seeks to determine how the transition from Communism impacted upon the military. It then attempts to explain why the Russian military did not stage a coup from 1992 to 1996, despite it being apparent that many personnel held grievances.
To explain the absence of a Russian military coup I focus on three key determinants that I believe are most important in determining whether the military intervenes in politics. These factors are the capacity to intervene, the disposition to intervene, and the opportunity to intervene. Within these broad determinants are various factors that I examine in the context of coups throughout this century to determine their importance. I then assess whether they were strong enough to have encouraged intervention in Russia.
I conclude that the collapse of Communism had a wide-ranging impact on the Soviet and Russian military, and that this was overwhelmingly negative. However, despite the grievances of personnel, I believe that a coup was not launched because the coup determinants did not encourage intervention. This is because the military lacked the capacity to intervene, did not have a strong interventionist dis•position, and did not have the opportunity to intervene. These ultimately discouraged the military from staging a coup, and help to explain the military's political quiescence.
Keywords
Civil-military relations--Russia (Federation); Civil-military relations--Soviet Union; Russia (Federation)--Politics and government--1991-; Russia (Federation)--History--1991-; Soviet Union--Politics and government--1985-1991; Soviet Union--History--1985-1991
Rights
All Rights Reserved
Related items
Showing items related by title, author, creator and subject.
Stedman, Alison

(

University of Canterbury. Humanities

,

2011

)

For historians of twentieth-century British affairs, the decade of the 1930s is very significant. It was marked not only by a devastating economic crisis at the outset, but also by the rise of fascism in Europe and the ...

Roscoe, Shona Alice

(

University of Canterbury

,

1937

)

The industrial legislation of the present Labour Government of New Zealand has had the effect both of increasing the numerical strength of existent unions and of simulating the foundation of new ones in previously unorganised ...

Chaban N

;

Pavlov E

;

Mondry, Henrietta

(

2021

)

The year 2021 marks a major milestone in the global geopolitical history – 30 years since the collapse of the USSR. Our Special Issue is a scholarly reflection on the evolving and evolved narratives and perceptions formed ...