Dependence or independence : New Zealand's external relations, 1942-1952
(1999)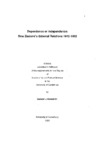 View/Open
Type of Content
Theses / Dissertations
Thesis Discipline
Political Science
Degree Name
Master of Arts
Publisher
University of Canterbury
Language
English
Collections
Abstract
This thesis looks at the New Zealand's external relations in the period 1942- 1952 and in particular the degree of independence, from other countries, exercised by the Government in Wellington when deciding external affairs policies. This is done by looking at two case studies, firstly New Zealand's participation in the Pacific War and the subsequent national involvement in the surrender and occupation of Japan. The second case study is the decision to seek a post-war security arrangement with the United States of America.
It will be shown that New Zealand did act independent of any other nation when formulating policy and did not simply 'do what it was told' by the United Kingdom, the United States, Australia or any other state.
Keywords
World War, 1939-1945--Campaigns$zPacific Ocean; World War, 1939-1945--New Zealand; New Zealand--Foreign relations; New Zealand--Military relations--United States; United States--Military relations--New Zealand
Rights
All Rights Reserved
Related items
Showing items related by title, author, creator and subject.
The central concern of this thesis is the nature of the political/military relations between New Zealand and the United States of America - two of the allies in ANZUS. The fact that in 1986, ANZUS, as it had been known ...

Hern, Michael Arthur

(

1990

)

ANZUS and a Nuclear Free New Zealand describes how New Zealand's most important Security Treaty has survived against efforts to establish a nuclear free zone around New Zealand and in the South Pacific. The origins of the ...

Denne, Christopher John

(

1983

)

This thesis is an analysis of the New Zealand Government's decision-making on combat military aid to South Vietnam and of subsequent decision-making on the admission of nuclear-powered ships to New Zealand ports. Particular ...