Empathy in child molesters: a comparative view
(1998)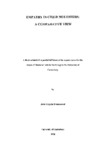 View/Open
Type of Content
Theses / Dissertations
Thesis Discipline
Psychology
Degree Name
Master of Arts
Publisher
University of Canterbury
Language
English
Collections
Abstract
In recent years there has been a large amount of research into the causes and treatment of child molestation. One focus of this research was concerned with the role of empathy deficits in child molesters. This thesis discusses the research to date in this area, with particular reference to the definition and nature of empathy, and the question of whether deficits in child molesters might be victim specific rather than general. It then investigates the nature of empathy deficits in child molesters, and compares them with empathy deficits in other offenders.
Thirty incarcerated child molesters, twenty incarcerated violent offenders, and twenty incarcerated nonsexual/nonviolent offenders completed four questionnaires, including the Emotional Apperception Test. While there were no significant differences between groups, the EAT revealed that child molesters and violent offenders have deficits in their ability to emotionally replicate the states of their victims. These and other findings are discussed in relation to previous and future research, and an amended version of the EAT is recommended.
Keywords
Empathy; Child molesters--Psychology; Child sexual abuse--Psychological aspects; Violence--Psychological aspects
Rights
All Rights Reserved
Related items
Showing items related by title, author, creator and subject.
Sutcliffe-Thomas, Christina Jane

(

University of Canterbury

,

1996

)

Child molesters present with a variety of characteristics that contribute to the development and perpetuation of their offending, which can be further utilised in the assessment of offender subtypes. Offenders' cognitive ...

Robertson, David Brian

(

1990

)

This thesis reviewed the major methodological, theoretical and empirical research literature pertaining to replication of child sexual abuse (CSA) in males. The review concluded that a dearth of scientific evidence exists ...

Culling, Harriette

(

University of Canterbury

,

2018

)

The aim of the current study was to inform the prevention of child sexual abuse. It was an exploratory study that sought to add to the small but growing literature of Minor-Attracted Persons (MAPs). A sample of self-identified ...