Sourcing product quality for foreign market entry
(2019)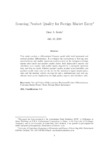 Type of Content
Journal Article
Publisher
Springer Science and Business Media LLC
ISSN
1610-2878
1610-2886
Language
en
Collections
Abstract
This study employs a differentiated Cournot model with both horizontal and vertical product differentiation. It scrutinizes the implications of frictions over manufacturing high quality (upstream market power) on the endogenous foreign market entry mode and product quality choice. Both high-quality exports and subsidiary sales require high-quality inputs supplied by a monopoly upstream firm, and thus are costly. Relative product quality, product substitutability, and product-specific trade costs are the key for the variation in input/output prices, sales and the markup between an exporter and a multinational, and have significant trade policy implications for high-quality exports and subsidiary sales.
Citation
Koska OA (2020). Sourcing product quality for foreign market entry. Review of World Economics.
This citation is automatically generated and may be unreliable. Use as a guide only.
Keywords
Vertical Product Differentiation; Horizontal Product Differentiation; Upstream Market Power; Trade; Foreign Direct Investment
ANZSRC Fields of Research
38 - Economics::3801 - Applied economics::380107 - Financial economics
35 - Commerce, management, tourism and services::3502 - Banking, finance and investment::350202 - Finance
Rights
All rights reserved unless otherwise stated
Related items
Showing items related by title, author, creator and subject.
Bialkowski, J.

;

Jakubowski, J.

(

Social Science Research NetworkUniversity of Canterbury. Department of Economics and Finance

,

2010

)

This paper investigates to what extent underlying specific properties together with contract design determine level of trading activity on the Eurex derivative exchange. The study looks beyond systematic reasons extensively ...

Wei X

;

Bialkowski, Jedrzej

;

Dang, Huong Dieu

(

2022

)

Motivated by the extremely low level of the CBOE VIX accompanied by the high level of US economic policy uncertainty in the period of late 2016 to the end of 2017, we examine the factors affecting the relationship ...

Rea WS

;

Yang L

;

Rea A

(

2017

)

We present four methods of assessing the diversification potential within a stock market, and two of these are based on principal component analysis. They were applied to the Australian stock exchange for the years 2000 ...