Evaluation of Southern Ocean cloud in the HadGEM3 general circulation model and MERRA-2 reanalysis using ship-based observations
(2020)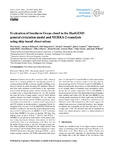 View/Open
Type of Content
Journal Article
Publisher
Copernicus GmbH
ISSN
1680-7316
1680-7324
Language
en
Authors
Kuma P
Morgenstern O
Alexander SP
Cassano JJ
Garrett S
Halla J
Hartery S
Harvey MJ
Parsons S
Plank G
Varma V
Williams J
McDonald, Adrian
show all
Abstract
Southern Ocean (SO) shortwave (SW) radiation biases are a common problem in contemporary general circulation models (GCMs), with most models exhibiting a tendency to absorb too much incoming SW radiation. These biases have been attributed to deficiencies in the representation of clouds during the austral summer months, either due to cloud cover or cloud albedo being too low. The problem has been the focus of many studies, most of which utilised satellite datasets for model evaluation. We use multi-year ship-based observations and the CERES spaceborne radiation budget measurements to contrast cloud representation and SW radiation in the atmospheric component Global Atmosphere (GA) version 7.1 of the HadGEM3 GCM and the MERRA-2 reanalysis. We find that the prevailing bias is negative in GA7.1 and positive in MERRA-2. GA7.1 performs better than MERRA-2 in terms of absolute SW bias. Significant errors of up to 21Wm-2 (GA7.1) and 39Wm-2 (MERRA-2) are present in both models in the austral summer. Using ship-based ceilometer observations, we find low cloud below 2km to be predominant in the Ross Sea and the Indian Ocean sectors of the SO. Utilising a novel surface lidar simulator developed for this study, derived from an existing Cloud Feedback Model Intercomparison Project (CFMIP) Observation Simulator Package (COSP) - active remote sensing simulator (ACTSIM) spaceborne lidar simulator, we find that GA7.1 and MERRA-2 both underestimate low cloud and fog occurrence relative to the ship observations on average by 4%-9% (GA7.1) and 18% (MERRA-2). Based on radiosonde observations, we also find the low cloud to be strongly linked to boundary layer atmospheric stability and the sea surface temperature. GA7.1 and MERRA-2 do not represent the observed relationship between boundary layer stability and clouds well. We find that MERRA-2 has a much greater proportion of cloud liquid water in the SO in austral summer than GA7.1, a likely key contributor to the difference in the SW radiation bias. Our results suggest that subgrid-scale processes (cloud and boundary layer parameterisations) are responsible for the bias and that in GA7.1 a major part of the SW radiation bias can be explained by cloud cover underestimation, relative to underestimation of cloud albedo.
Citation
Kuma P, McDonald AJ, Morgenstern O, Alexander SP, Cassano JJ, Garrett S, Halla J, Hartery S, Harvey MJ, Parsons S, Plank G, Varma V, Williams J (2020). Evaluation of Southern Ocean cloud in the HadGEM3 general circulation model and MERRA-2 reanalysis using ship-based observations. Atmospheric Chemistry and Physics. 20(11). 6607-6630.
This citation is automatically generated and may be unreliable. Use as a guide only.
ANZSRC Fields of Research
37 - Earth sciences::3701 - Atmospheric sciences
Rights
All rights reserved unless otherwise stated
Related items
Showing items related by title, author, creator and subject.
Kremser S

;

Harvey M

;

Kuma P

;

Hartery S

;

Saint-Macary A

;

McGregor J

;

Schuddeboom A

;

von Hobe M

;

Lennartz ST

;

Geddes A

;

Querel R

;

Peltola M

;

Sellegri K

;

Silber I

;

Law CS

;

Flynn CJ

;

Marriner A

;

Hill TCJ

;

DeMott PJ

;

Hume CC

;

Plank G

;

Graham G

;

Parsons S

;

McDonald, Adrian

(

Copernicus GmbH

,

2021

)

Due to its remote location and extreme weather conditions, atmospheric in situ measurements are rare in the Southern Ocean. As a result, aerosol–cloud interactions in this region are poorly understood and remain a major ...

Kremser S

;

Harvey M

;

Mulcahy JP

;

Williams J

;

Morgenstern O

;

Varma V

;

Bird L

;

Schuddeboom A

;

Revell, Laura

;

McDonald, Adrian

;

Hartery, Sean

(

Copernicus GmbH

,

2019

)

With low concentrations of tropospheric aerosol, the Southern Ocean offers a "natural laboratory" for studies of aerosol-cloud interactions. Aerosols over the Southern Ocean are produced from biogenic activity in the ocean, ...

McFarquhar GM

;

Bretherton CS

;

Marchand R

;

Protat A

;

DeMott PJ

;

Alexander SP

;

Roberts GC

;

Twohy CH

;

Toohey D

;

Siems S

;

Huang Y

;

Wood R

;

Rauber RM

;

Lasher-Trapp S

;

Jensen J

;

Stith JL

;

Mace J

;

Um J

;

Järvinen E

;

Schnaiter M

;

Gettelman A

;

Sanchez KJ

;

McCluskey CS

;

Russell LM

;

McCoy IL

;

Atlas RL

;

Bardeen CG

;

Moore KA

;

Hill TCJ

;

Humphries RS

;

Keywood MD

;

Ristovski Z

;

Cravigan L

;

Schofield R

;

Fairall C

;

Mallet MD

;

Kreidenweis SM

;

Rainwater B

;

D'Alessandro J

;

Wang Y

;

Wu W

;

Saliba G

;

Levin EJT

;

Ding S

;

Lang F

;

Truong SCH

;

Wolff C

;

Haggerty J

;

Harvey MJ

;

Klekociuk AR

;

McDonald, Adrian

(

American Meteorological Society

,

2021

)

Weather and climate models are challenged by uncertainties and biases in simulating Southern Ocean (SO) radiative fluxes that trace to a poor understanding of cloud, aerosol, precipitation, and radiative processes, and ...