Development of a Low Temperature Geothermal Organic Rankine Cycle Standard
(2013)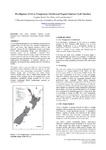 Type of Content
Conference Contributions - Published
Publisher
University of Canterbury. Mechanical Engineering
Collections
Authors
Taylor, L.,
Krumdieck, S.
show all
Abstract
Low temperature geothermal is an abundant resource in New Zealand with over 260 sites with a resource temperature of 150°C and lower. The Organic Rankine Cycle is the standard process for low temperature energy conversion. Power plant prospecting, design, and, development is normally carried out by established companies. New Zealand is lacking experience in the design and manufacture of low temperature geothermal ORC plants. Experience can be gained through a thematic analysis of both successful and unsuccessful developments. A thematic analysis is a qualitative investigation that examines patterns and themes in data. This paper looks at one case study of a low temperature geothermal Organic Rankine Cycle and organizes the data into four key areas: prospecting, concept plant feasibility, detailed design, and, construction and results. Future research requires more data to validate these patterns. The outcome of this analysis will be the foundation for a low temperature geothermal design standard for the Above Ground Geothermal Allied Technologies research cooperative (AGGAT).
Citation
Taylor, L., Krumdieck, S. (2013) Development of a Low Temperature Geothermal Organic Rankine Cycle Standard. Rotorua, New Zealand: 35th New Zealand Geothermal Workshop (NZGW), 18-21 Nov 2013.
This citation is automatically generated and may be unreliable. Use as a guide only.
Keywords
Organic Rankine Cycle; Geothermal
ANZSRC Fields of Research
04 - Earth Sciences::0404 - Geophysics::040404 - Geothermics and Radiometrics
09 - Engineering::0913 - Mechanical Engineering::091305 - Energy Generation, Conversion and Storage Engineering