Remembering Helen Macmillan Brown.
(2018)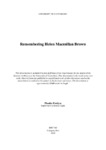 Type of Content
Theses / Dissertations
Thesis Discipline
History
Degree Name
Bachelor of Arts (Hons)
Publisher
University of Canterbury
Language
English
Collections
Abstract
This research paper examines the life and memory of Helen Macmillan Brown (née Connon). Helen was the first woman in the British Empire to earn a master's degree in 1881 as an early graduate of Canterbury College. She was also principal of Christchurch Girls' High School for over a decade. Helen's sudden death in 1903 prompted an outpouring of memorialisation from a wide variety of sources, including newspaper obituaries, physical sites such as Helen Connon Hall, busts and plaques, published family memoirs, and biographies. The key works on Helen's life are Edith Searle-Grossmann's feminist biography Life of Helen Macmillan Brown, published in 1905, followed by Easily the Best: The Life of Helen Connon 1857-1903 by historian Margaret Lovell-Smith. Different public, personal, and biographic modes of remembrance – explored in the first three chapters – illuminate the most significant aspect of the popular narrative of Helen's life: her pioneering roles in women's education. The final chapter uses Helen's photography in an attempt to locate the real Helen beneath all of this memory. Her photography has largely been ignored in scholarship despite being one of the very few extant sources of her own voice. This analysis shows how different modes of public and private remembrance interact to emphasise Helen's contribution to women's education, while obscuring Helen's personal life and role as mother and wife.
Rights
All Rights Reserved
Related items
Showing items related by title, author, creator and subject.
Doake, David Brown

(

University of Canterbury. School of Educational Studies and Human Development

,

1972

)

Brown, Allison

;

Curnow, Amanda

;

He, Amanda

;

Joseph, Amy

;

Schweer, Andrea

;

White, Andrew

;

Angelo, Anton

;

Arona, Aurelia

;

Fitchett, Deborah

;

Richardson, Emma

;

Wilson, Fiona

;

Walker, Glen

;

Thomas, Helen

;

Taiuru, Karaitiana

;

Miller, Kate

;

Gilmour, Kerry

;

Shepherd, Kim

;

Pengelly, Leah

;

Yoshioka, Mariko

;

Sullivan, Max

;

Parry, Michael

;

Paul, Nekerangi

;

Kennedy, Peter

;

Dawson, Roger

;

bin Mahli, Rudy

;

Tritt, Sarah

;

Cooke, Simon

;

Donaldson, Steve

;

Allan, Sue

;

Avery, Tom

;

Anderson, Valerie

(

University of Canterbury

,

2015

)

The following notes were made by attendees (listed at the end of the document) and published under Creative Commons Attribution 4.0 licence.

Brown, Helen

(

University of Canterbury

,

2020

)

When Lore and History of the South Island Maori was published in 1952 it filled a vacuum in terms of accessible Ngāi Tahu history in the public domain. Despite its scholarly shortcomings, it remained one of the only readily ...