A comparison of Loon balloon observations and stratospheric reanalysis products
(2017)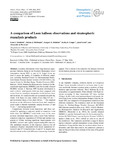 View/Open
Type of Content
Journal Article
Publisher
Copernicus GmbH
ISSN
1680-7316
1680-7324
Language
en
Authors
Friedrich LS
Bodeker GE
Cooper KE
Lewis J
Paterson AJ
McDonald, Adrian
show all
Abstract
© Author(s) 2017. Location information from long-duration super-pressure balloons flying in the Southern Hemisphere lower stratosphere during 2014 as part of X Project Loon are used to assess the quality of a number of different reanalyses including National Centers for Environmental Prediction Climate Forecast System version 2 (NCEP-CFSv2), European Centre for Medium-Range Weather Forecasts (ERA-Interim), NASA Modern Era Retrospective-Analysis for Research and Applications (MERRA), and the recently released MERRA version 2. Balloon GPS location information is used to derive wind speeds which are then compared with values from the reanalyses interpolated to the balloon times and locations. All reanalysis data sets accurately describe the winds, with biases in zonal winds of less than 0.37 ms -1 and meridional biases of less than 0.08 ms -1 . The standard deviation on the differences between Loon and reanalyses zonal winds is latitude-dependent, ranging between 2.5 and 3.5 ms -1 , increasing equatorward. Comparisons between Loon trajectories and those calculated by applying a trajectory model to reanalysis wind fields show that MERRA-2 wind fields result in the most accurate simulated trajectories with a mean 5-day balloon-reanalysis trajectory separation of 621 km and median separation of 324 km showing significant improvements over MERRA version 1 and slightly outperforming ERA-Interim. The latitudinal structure of the trajectory statistics for all reanalyses displays marginally lower mean separations between 15 and 35° S than between 35 and 55° S, despite standard deviations in the wind differences increasing toward the equator. This is shown to be related to the distance travelled by the balloon playing a role in the separation statistics.
Citation
Friedrich LS, McDonald AJ, Bodeker GE, Cooper KE, Lewis J, Paterson AJ (2017). A comparison of Loon balloon observations and stratospheric reanalysis products. Atmospheric Chemistry and Physics. 17(2). 855-866.
This citation is automatically generated and may be unreliable. Use as a guide only.
ANZSRC Fields of Research
37 - Earth sciences::3701 - Atmospheric sciences::370105 - Atmospheric dynamics
37 - Earth sciences::3701 - Atmospheric sciences::370109 - Tropospheric and stratospheric physics
37 - Earth sciences::3701 - Atmospheric sciences::370108 - Meteorology
Rights
All rights reserved unless otherwise stated
Related items
Showing items related by title, author, creator and subject.
Porhemmat R

;

Zawar-Reza P

;

Kerr T

;

Zammit C

;

Purdie, Heather

(

2021

)

Rain-on-snow (ROS) events are important hydrometeorological phenomenon in alpine catchments. Despite the frequent occurrence of ROS in the Southern Alps, the hydrometeorological characteristics of these events remain ...

Ayarzaguena B

;

Polvani LM

;

Langematz U

;

Akiyoshi H

;

Bekki S

;

Butchart N

;

Dameris M

;

Deushi M

;

Hardiman SC

;

Jockel P

;

Klekociuk A

;

Marchand M

;

Michou M

;

Morgenstern O

;

O'Connor F

;

Oman LD

;

Plummer DA

;

Revell LE

;

Rozanov E

;

Saint-Martin D

;

Scinocca J

;

Stenke A

;

Stone K

;

Yamashita Y

;

Yoshida K

;

Zeng G

(

2018

)

Major mid-winter stratospheric sudden warmings (SSWs) are the largest instance of wintertime variability in the Arctic stratosphere. Because SSWs are able to cause significant surface weather anomalies on intra-season ...

Kuchar A

;

Ball WT

;

Rozanov EV

;

Stenke A

;

Revell L

;

Miksovsky J

;

Pisoft P

;

Peter T

(

2017

)

©2017. American Geophysical Union. All Rights Reserved. The double-peaked response of the tropical stratospheric temperature profile to the 11 year solar cycle (SC) has been well documented. However, there are concerns ...