Averaging the inhomogeneous universe
(2006)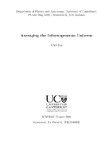 View/Open
Type of Content
Theses / Dissertations
Thesis Discipline
Physics
Degree Name
Bachelor of Science (Hons)
Publisher
University of Canterbury
Language
English
Collections
Abstract
We re-formulate and examine T. Buchert's recent averaging scheme for scalars in cosmological applications of general relativity. The equation thus obtained can be used to describe the averaged quantities of an arbitrary inhomogeneous co-moving region and show the importance of back-reaction.
We also study the use of information theory in this averaging framework. Original extensions are mainly made along two lines: the information of inhomogeneity for different scales are compared; the possibility of use of Shannon's entropy in inhomogeneous cosmology are investigated. We also discuss the non-locality of gravitational energy in inhomogeneous cosmology.
Examples of cosmological solutions of Buchert's averaging scheme are studied.
Rights
All Rights Reserved
Related items
Showing items related by title, author, creator and subject.
Gaur, Rudeep

(

University of Canterbury

,

2021

)

This thesis will discuss the standard model of cosmology, ΛCDM, along with standard perturbation theory. We will thereafter, explore alternatives to ΛCDM. In Chapter 2 we shall discuss a brief history of the development ...

Wiltshire, D.L.

(

E-print gr-qc/0503099University of Canterbury. Physics and Astronomy

,

2005

)

A new model of the observed universe, using solutions to the full Einstein equations, is developed from the hypothesis that our observable universe is an underdense bubble, with an internally inhomogeneous fractal bubble ...

Rose, Hamish

(

University of Canterbury. Physics

,

2002

)

This thesis examines the effect of inhomogeneities on the magnitude-redshift relationship, focusing particularly on the redshift. We show that a perturbed FRW universe which has the same global behaviour as an exact FRW ...