Quasilocal energy and conservation laws in general relativity
(2013)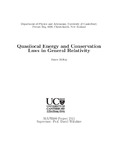 View/Open
Type of Content
Theses / Dissertations
Thesis Discipline
Physics
Degree Name
Bachelor of Science (Hons)
Publisher
University of Canterbury
Language
English
Collections
Abstract
In this work we investigate current research on quasilocal energy and conservation laws in general relativity. We explore the derivations and motivations for the Brown and York quasilocal energy and the Epp invariant quasilocal energy. We obtain expressions for the quasilocal energy of the radially inhomogeneous Lemaître-Tolman geometry via both the Brown and York and the Epp definitions. We then make a perturbative comparison between the energy predicted by Newtonian cosmology and the quasilocal energy of a Friedmann-Lemaître-Robertson-Walker universe transformed into locally inertial Fermi normal coordinates. It is found that by transforming to Fermi normal coordinates the magnitude of the difference in energy between these cosmological models is reduced.
Recent developments on the utility of a rigid quasilocal frame (RQF) in quasilocal conservation laws are investigated. We apply the RQF construction to a Lemaître-Tolman universe and prove the existence of such a frame at the center of spherical symmetry. We obtain an explicit function in terms of the components of the metric that allow a congruence of observers to remain expansion- and shear-free for all time.
Rights
All Rights Reserved
Related items
Showing items related by title, author, creator and subject.
Suttie, D. G.

(

University of Canterbury. Physics

,

1987

)

Conservation laws are studied using 'multipliers' - functions which produce divergences when they multiply an equation. Multipliers are found for a number of well-known equations including those of interest in nonlinear ...

Uzun, Nezihe

(

University of Canterbury

,

2016

)

We propose a method to define and investigate finite size systems in general relativity in terms of their matter plus gravitational energy content. We achieve this by adopting a generic formulation, that involves the ...

Coley AA

;

Wiltshire DL

(

2017

)

General relativity is a set of physical and geometric principles, which lead to a set of (Einstein) field equations that determine the gravitational field, and to the geodesic equations that describe light propagation ...