Food for people in place: reimagining resilient food systems for economic recovery
(2020)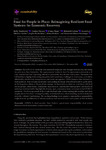 View/Open
Type of Content
Journal Article
Publisher
MDPI AG
ISSN
2071-1050
Language
en
Authors
Diprose G
Sharp E
Graham R
Lee L
Richardson S
Watkins A
Martin-Neuninger R
Dombroski, Kelly
Scobie, Matthew
show all
Abstract
The COVID-19 pandemic and associated response have brought food security into sharp focus for many New Zealanders. The requirement to "shelter in place" for eight weeks nationwide, with only "essential services" operating, affected all parts of the New Zealand food system. The nationwide full lockdown highlighted existing inequities and created new challenges to food access, availability, affordability, distribution, transportation, and waste management. While Aotearoa New Zealand is a food producer, there remains uncertainty surrounding the future of local food systems, particularly as the long-term effects of the pandemic emerge. In this article we draw on interviews with food rescue groups, urban farms, community organisations, supermarket management, and local and central government staff to highlight the diverse, rapid, community-based responses to the COVID-19 pandemic. Our findings reveal shifts at both the local scale, where existing relationships and short supply chains have been leveraged quickly, and national scale, where funding has been mobilised towards a different food strategy. We use these findings to re-imagine where and how responsibility might be taken up differently to enhance resilience and care in diverse food systems in New Zealand.
Citation
Dombroski K, Diprose G, Sharp E, Graham R, Lee L, Scobie M, Richardson S, Watkins A, Martin-Neuninger R (2020). Food for people in place: reimagining resilient food systems for economic recovery. Sustainability (Switzerland). 12(22). 1-17.
This citation is automatically generated and may be unreliable. Use as a guide only.
Keywords
COVID-19; food security; New Zealand; governance; responsibility; food justice; alternative food movements; diverse economies
ANZSRC Fields of Research
44 - Human society::4406 - Human geography::440603 - Economic geography
44 - Human society::4406 - Human geography::440610 - Social geography
44 - Human society::4407 - Policy and administration::440712 - Social policy
30 - Agricultural, veterinary and food sciences::3006 - Food sciences::300606 - Food sustainability
38 - Economics::3801 - Applied economics::380101 - Agricultural economics
38 - Economics::3801 - Applied economics::380108 - Health economics
32 - Biomedical and clinical sciences::3210 - Nutrition and dietetics::321005 - Public health nutrition
44 - Human society::4407 - Policy and administration::440706 - Health policy
35 - Commerce, management, tourism and services::3504 - Commercial services::350401 - Food and hospitality services
35 - Commerce, management, tourism and services::3509 - Transportation, logistics and supply chains::350909 - Supply chains
Rights
All rights reserved unless otherwise stated
Related items
Showing items related by title, author, creator and subject.
Beltrán-Morales LF

;

Almendarez-Hernández MA

;

Avilés-Polanco G

;

Jefferson, David

(

Public Library of Science (PLoS)

,

2021

)

The present article examines the impact of intellectual property (IP) utilization and concentration on economic growth in Mexico. The findings presented center on the use of different forms of IP by researchers in the ...

Sawyer AJ

;

Sadiq K

;

McCredie B

(

2018

)

The OECD's Base erosion and Profit Shifting (BEPS) initiative is undergoing what may be the most challenging phase, namely ratification and implementation by countries and jurisdictions. In this paper we provide a ...

Masselot A

;

Hayes M

(

Auckland University of Technology (AUT) Library

,

2020

)

This article outlines how the Covid-19 pandemic exacerbates economic and social gender inequalities in Aotearoa ǀ New Zealand. While this crisis highlights the central part played by women in the economy, the gender impacts ...