Personality and psychopathology
(1992)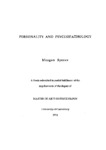 View/Open
Type of Content
Theses / Dissertations
Thesis Discipline
Psychology
Degree Name
Master of Arts
Publisher
University of Canterbury
Language
English
Collections
Abstract
The assessment of personality provides the clinician with an opportunity to gather idiosyncratic information about an individual; information that is potentially useful in the diagnosis, treatment, and prognosis of that patient. In the area of psychopathology, personality has been viewed historically within the context of categorical diagnoses of personality disorder. This thesis critically reviews a recently proposed theory of personality that has incorporated normal and abnormal personality into a dimensional system of classification. The biosocial theory of personality and in its expanded form, the psychobiological model of temperament and character, were proposed by C.R. Cloninger and his colleagues in an attempt to provide a theoretical base from which to test causal hypotheses about personality in psychopathology. The theory is discussed in terms of its relevance to the understanding of personality structure, development, and psychopathology. It is concluded that despite limitations, this theory has an important contribution to make to further research investigating the influence of personality variables in a clinical setting.
Rights
All Rights Reserved
Related items
Showing items related by title, author, creator and subject.
Fergusson, C. J.

(

University of Canterbury

,

2019

)

The therapeutic alliance has been identified as the most consistent predictor of psychotherapy outcome. Therapeutic alliance is an interpersonal relationship between client and therapist. Interpersonal relationships can ...

Bates, Hamish

(

University of Canterbury

,

2018

)

In 2016, the mobile phone game Pokémon Go was launched. In the span of a few weeks this would go on to be one of the most popular games on IOS and Android and result in its players walking millions of kilometres as part ...

Turner, Robin Maree

(

University of Canterbury. Mathematics and Statistics

,

2004

)

How does personality affect mental illness? Investigations into the Cloninger personality model as a predictor and factor in mental illness have found that significant relationships exist. The relationship between ...