Tuning networked Unix systems for modern applications
(1993)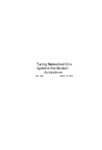 View/Open
Degree Name
Bachelor of Science with Honours
Publisher
University of Canterbury. Department of Computer Science
Abstract
The complexity of a network of workstations and modern networked applications can make performance tuning difficult. A telling comment from one networker was "You know you're on a network when some system you've never heard of comes up on your console and hangs your machine!". This paper aims to provide techniques for troubleshooting and tuning your network, and is organised into the following sections: 1. Background 2. Configuring a networked system 3. Tuning a networked system 4. Summary: Buy more RAM! Modern GUI applications need lots of RAM to work well; When looking for resource-hogging clients, start at the server and follow the trail; Tuning your kernel parameters is easy, and is essential for most systems; If your ethernet is overloading (more than 2-3% collisions, 20% load) then you need to partition it; Once your network has enough RAM and network bandwidth, it will need more CPU power.
ANZSRC Fields of Research
46 - Information and computing sciences::4606 - Distributed computing and systems software::460609 - Networking and communications
Rights
Copyright Tony Dale
Related items
Showing items related by title, author, creator and subject.
Ashton, Paul James

;

Penny, J. P.

(

University of Canterbury

,

1991

)

For users of loosely-coupled distributed systems, questions about "performance" commonly involve interactive performance. The problem of measuring components of interactive response times is approached by representing ...

Arfeen A

;

Pawlikowski K

;

McNickle D

;

Willig A

(

Elsevier BV

,

2019

)

Over the years researchers have used Weibull distribution to model packet level Internet traffic behaviour without any physical or analytical justification other than its parameter flexibility and heavy-tailed behaviour. ...

Rodgers, Chris

(

University of Canterbury. Computer Science and Software Engineering

,

2001

)

Virtual Private Networks (VPNs) are one of the most important developments in data communications in re-cent years, offering enterprises potentially dramatic cost savings and substantial freedom when implementing a secure ...