Synthesizing Religions: Vasily Rozanov's "Phallic Christianity"
(2021)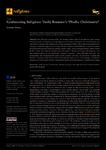 View/Open
Type of Content
Journal Article
Publisher
MDPI AG
ISSN
2077-1444
Language
en
Abstract
Vasily Rozanov was one of the first Russian writers of the fin de siècle to create a nexus between the study of the history of world religions and the history of sexuality. He viewed Christianity's asceticism as a source of the disintegration of the contemporary family. This article examines Rozanov's strategy to synthesize religions and to use pre-Christian religions of the Middle East as proof of common physical and metaphysical essence in celestial, human, animal, and mythological human/animal/divine bodies. I argue that while his rehabilitation of the physical life by endowing it with religious value was socially positive, his self-proclaimed "mission of sexuality", when politically motivated, was manipulative and incorporated the notion of the atavistic 'survivals'. In conclusion, I explain that Rozanov's monistic search for the divine in the physical body as well as his strategy to synthesize religions were additionally driven by his personal doubts in the preeminence of Christian eschatology.
Citation
Mondry H. (2021).Synthesizing Religions: Vasily Rozanov's "Phallic Christianity". Religions. 12(6). 430-430.
This citation is automatically generated and may be unreliable. Use as a guide only.
Keywords
Vasily Rozanov; Christianity; Judaism; sexuality and religions; human–animal monism; proto-posthumanism
ANZSRC Fields of Research
50 - Philosophy and religious studies::5004 - Religious studies::500401 - Christian studies
50 - Philosophy and religious studies::5004 - Religious studies::500404 - Jewish studies
50 - Philosophy and religious studies::5004 - Religious studies::500405 - Religion, society and culture
Rights
All rights reserved unless otherwise stated
Related items
Showing items related by title, author, creator and subject.
Gavin, Samantha

(

University of Canterbury. History

,

2014

)

Dietrich Bonhoeffer is a well known individual because of his behaviour during Nazi Germany (1933-1945), but what are the reasons for his fame? Was he really that unique? this paper aims to determine who has celebrated ...

This article discusses the place of God in the poetic system of Aleksandr Vvedensky. Vvedensky's famous pronouncement on his "poetic critique" is more throughgoing than Kant's critical enterprise, and invites a comparison ...

Jones C

;

Bogue S

;

Michael K

;

De Jong E

(

2018

)

Facilitated and curated digital display of Canterbury Roll at Pitts Theology Library; wrote catalogue entry "Section 7: From Parchment to Pixel", pp. 102-103.