Estimating (unidentifiable) enhanced EGP in glycaemic control modelling: Dancing with minions of the Dark Lord
(2020)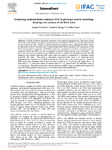 View/Open
Type of Content
Journal Article
Publisher
Elsevier BV
ISSN
2405-8963
Language
en
Collections
Abstract
Critically ill patients frequently experience stress-induced hyperglycaemia. Glycaemic control (GC) with insulin therapy can improve patient outcomes, but effective GC is not currently well achieved in most critical care units. STAR is a model-based decision support system, utilizing the ICING model, for glycaemic control in intensive care. Understanding model-based parameters and assumptions within their clinical context is important. The ICING model uses a population constant for endogenous glucose production (EGP), but EGP can vary considerably in patients during extreme stress and trauma. This study uses data from 145 patients on the SPRINT protocol to explore the assumptions around the EGP parameter and estimate minimum EGP values when the model is constrained to a minimum insulin sensitivity (SI) value. The model is frequently constrained when there is no nutritional input, highlighting the importance of the EGP parameter for glucose flux in the model equation. Minimum EGP values were calculated when SI was less than or equal to 1e-5 L/mU/min and ranged from 1.16 mmol/min to 2.72 mmol/min, where the median value is a 12% increase from the population value of 1.16 mmol/min. This analysis provides a relative indication of EGP changes in patients and supports the use of the EGP population value as only 2.3% of hours require EGP modification.
Citation
Ormsbee JJ, Knopp JL, Chase JG (2020). Estimating (unidentifiable) enhanced EGP in glycaemic control modelling: Dancing with minions of the Dark Lord. IFAC-PapersOnLine. 53(2). 16155-16160.
This citation is automatically generated and may be unreliable. Use as a guide only.
Keywords
Physiological model; decision support and control; clinical validation; kinetic modelling and control of biological systems; EGP; glycaemic control; physiological model; critical care
ANZSRC Fields of Research
40 - Engineering::4003 - Biomedical engineering::400306 - Computational physiology
32 - Biomedical and clinical sciences::3202 - Clinical sciences::320212 - Intensive care
32 - Biomedical and clinical sciences::3202 - Clinical sciences::320208 - Endocrinology
Rights
All rights reserved unless otherwise stated
Related items
Showing items related by title, author, creator and subject.
Davidson S

;

Desaive T

;

Benyo B

;

Shaw, Geoff

;

Knopp, Jennifer

;

Chase, Geoff

;

Uyttendaele, Vincent

(

Springer Science and Business Media LLC

,

2019

)

Background: The challenges of glycaemic control in critically ill patients have been debated for 20 years. While glycaemic control shows benefits inter- A nd intra-patient metabolic variability results in increased ...

Uyttendaele, Vincent

;

Knopp, Jennifer

;

Shaw, Geoff

;

Desaive T

;

Chase, Geoff

(

BMC

,

2020

)

Benyó B

;

Paláncz B

;

Szlávecz Á

;

Szabó B

;

Anane Y

;

Kovács K

;

Chase, Geoff

(

Elsevier BV

,

2020

)

Stress-induced hyperglycaemia is a frequent complication in the intensive therapy that can be safely and efficiently treated by using the recently developed model-based tight glycaemic control (TGC) protocols. The most ...