The good governance agenda for civil society : lessons from the Fa'aSamoa : an analysis of the good governance agenda for civil society and its liberal counterpart as they pertain to civil society institutions based on 'affective ties'
(1999)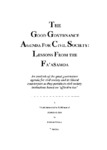 View/Open
Type of Content
Theses / Dissertations
Thesis Discipline
Political Science
Degree Name
Master of Arts
Publisher
University of Canterbury
Language
English
Collections
Abstract
This thesis sets out to use the case of Samoa to challenge arguments contained in, the good governance agenda, and a liberal prescription, for civil society. The good governance agenda argues that institutions based on "affective ties" must be eliminated from civil society. It argues that these kinds of institutions inhibit public sector efficiency and brings about or at least facilitates corruption. A liberal prescription for civil society, posited by Ernest Gellner and John A. Hall, advocates that institutions which, rely on rites and rituals to maintain solidarity and cohesion, should not be classed as civil society because they inhibit individual autonomy and freedom. This thesis will demonstrate through a critical review of the literature and through interviews conducted in Samoa that the claims made in both these paradigms give a narrow and incomplete account of; the functions of 'social cages', the impact of "affective ties" on capital accumulation and the role of affective ties vis-a-vis corruption.
Keywords
Civil society--Samoa; Samoa--Politics and government; Samoa--Economic policy
Rights
All Rights Reserved
Related items
Showing items related by title, author, creator and subject.
Building on the case of the Poverty Reduction Strategies (PRS), this working paper provides an analysis of the World Bank's new aid allocation mechanisms in relation to representative politics. As such, this paper provides ...

Dombroski K

;

Do HT

(

2019

)

All over the world, climate change adaptation interventions (CCAIs) are being implemented in a variety of ways, but mostly monitored using outcomes-based monitoring and evaluation (M&E) frameworks that are prone to ...

Gunby PP

;

Jin Y

(

Department of Economics and Finance, University of Canterbury

,

2016

)

This paper studies the factors associated with the size of the public sector as measured by government spending at the level of Chinese provinces using the method of extreme bounds analysis to identify robust correlates ...