Drag coefficients of spheres in turbulent non-steady flow.
(1969)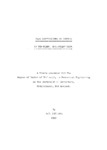 View/Open
Type of Content
Theses / Dissertations
Thesis Discipline
Mechanical Engineering
Degree Name
Doctor of Philosophy
Publisher
University of Canterbury
Language
English
Collections
Abstract
A re-derivation of the equation of non-steady motion of a sphere in viscous, incompressible fluid at very low Reynolds numbers is presented. The emphasis is on completeness to show clearly the limitations of the mathematical description. With this analytical treatment as basis, the non-steady, higher Reynolds number motion of a sphere in turbulent ambient flow is examined using dimensional and physical arguments. The parameters suggested as important in determining the drag coefficients are : particle Reynolds number; acceleration number; turbulence intensity and scale relative to particle slip speed and diameter, respectively; and particle-fluid density ratio.
The development of a new method of measuring drag coefficients is described. A diffuser is used to provide an inertial field in which particles slip with respect to an ambient, turbulent flow of water. The experimental results show that drag coefficients, for the parameter ranges investigated, depend at least upon particle Reynolds number, acceleration number and turbulence intensity. The ranges on turbulence scale and density ratio were insufficient to establish the variation in drag coefficient, if any, caused by these parameters, although the method is capable of determining this.
Some previous methods of solids-in-gas drag coefficients made by a quite different method (Torobin and Gauvin (1961lc)) are compared with the present results. They are shown to depend on the same parameters as in this study, and in a similar manner.
These results suggest that the discrepancies between results of previous workers could. have been caused by different averaging processes and by neglect of important parameters. Some parameters have a small effect for certain ranges on the other parameters, but a large effect for different ranges.
Related items
Showing items related by title, author, creator and subject.
Bell, Robert G.

(

University of Canterbury

,

1980

)

The temporal and spatial response of an alluvial reach to imposed steady and non-steady flows is examined under non­ equilibrium conditions, specifically the case where the bedload input at the upstream boundary is ...

Taira, Eliana Gabriela

(

University of Canterbury. Social and Political Sciences

,

2009

)

This thesis examines Māori media use and participation in Aotearoa/ New Zealand. A number of news media formats are examined and consideration is given to what the most effective formats for Māori communications are. It ...

Nasir, Sumaiya

(

University of Canterbury. School of Language, Social and Political Sciences

,

2014

)

This thesis assesses the effectiveness of social media platforms, specifically Facebook and blogs, in facilitating women's participation in the online public sphere in India. Discussion provides a literature review of the ...