Development of a Discrete Spectrometric NIR Reflectance Glucometer
(2020)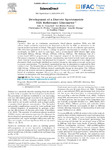 View/Open
Type of Content
Journal Article
Publisher
Elsevier BV
ISSN
2405-8963
Language
en
Collections
Authors
Campbell JD
Holder-Pearson, Lui
Benton C
Chase, Geoff
Pretty, Christopher
Knopp, Jennifer
show all
Abstract
Abstract: Currently, there are no continuous, non-invasive blood glucose monitors. With over 366 million people worldwide expected to be diagnosed as diabetic by 2030, an alternative to the current invasive methods is critical. This paper investigates the use of a discrete spectometric, NIR reflectance glucometer to detect a change in glucose concentration in solution. At each wavelength, an LED is used to emit light, and a reverse-biased LED detects light using wavelengths 660 nm, 850 nm, 940 nm, 1450 nm, 1550 nm, 1650 nm. The discharge time of a reverse-biased LED is proportional to the temporal integral of the detected light intensity. The sensor's response to changing glucose concentration was tested in both water and porcine blood. Glucose concentration was increased by 0.5 mmol l−1 and compared with a finger stick glucometer. Each wavelength exhibited an expected change in adsorption given only an increase in glucose concentration. The inverted exponential increase in absorption is explained by Beer Lambert's law. Wavelengths 660 nm, 850 nm and 1450 nm showed minimal change to absorption, while 940 nm, 1550 nm and 1650 nm showed considerable change in absorption. The 1550 nm LED gave the greatest increase in absorption with a 7% rise over 4.3 mmol l−1 to 20.6 mmol l−1. Ratios of absorption responses (R1550/1650, R1550/1450 and R940/850) each gave proportional increases in absorption with increasing glucose concentrations.
Citation
Campbell JD, Holder-Pearson L, Pretty CG, Benton C, Knopp J, Chase JG (2020). Development of a Discrete Spectrometric NIR Reflectance Glucometer. IFAC-PapersOnLine. 53(2). 15970-15975.
This citation is automatically generated and may be unreliable. Use as a guide only.
Keywords
discrete NIR spectrometry; non-invasive; glucose sensor; LED-LED detection; Beer Lambert's Law
ANZSRC Fields of Research
40 - Engineering::4003 - Biomedical engineering::400308 - Medical devices
40 - Engineering::4003 - Biomedical engineering::400305 - Biomedical instrumentation
40 - Engineering::4009 - Electronics, sensors and digital hardware::400909 - Photonic and electro-optical devices, sensors and systems (excl. communications)
32 - Biomedical and clinical sciences::3202 - Clinical sciences::320208 - Endocrinology
Rights
All rights reserved unless otherwise stated
Related items
Showing items related by title, author, creator and subject.
Campbell JD

;

Holder-Pearson, Lui

;

Pretty CG

;

Bones P

;

Chase, Geoff

(

Elsevier BV

,

2020

)

Pulse wave velocity (PWV) is frequently used as an early indicator of risk of cardiovascular disease. Conventional methods of PWV measurement are invasive and measure the regional PWV, introducing errors from unknown ...

Benyó B

;

Paláncz B

;

Szlávecz Á

;

Szabó B

;

Anane Y

;

Kovács K

;

Chase, Geoff

(

Elsevier BV

,

2020

)

Stress-induced hyperglycaemia is a frequent complication in the intensive therapy that can be safely and efficiently treated by using the recently developed model-based tight glycaemic control (TGC) protocols. The most ...

Weddell, Stephen John

;

Clare, Richard

;

Muruganandan, V.A.

;

Lambert, Andrew

(

2019

)

We are developing and will commission a space debris and object detection system in New Zealand that will provide high resolution capability to examine orbiting near Earth objects using a simplified, low-cost approach, ...