The why, when, and how of computing in biology classrooms
(2020)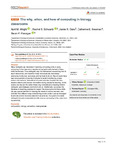 View/Open
Type of Content
Journal Article
Publisher
F1000 Research Ltd
ISSN
2046-1402
1759-796X
Language
English
Authors
Wright AM
Schwartz RS
Oaks JR
Newman CE
Flanagan SP
show all
Abstract
Many biologists are interested in teaching computing skills or using computing in the classroom, despite not being formally trained in these skills themselves. Thus biologists may find themselves researching how to teach these skills, and therefore many individuals are individually attempting to discover resources and methods to do so. Recent years have seen an expansion of new technologies to assist in delivering course content interactively. Educational research provides insights into how learners absorb and process information during interactive learning. In this review, we discuss the value of teaching foundational computing skills to biologists, and strategies and tools to do so. Additionally, we review the literature on teaching practices to support the development of these skills. We pay special attention to meeting the needs of diverse learners, and consider how different ways of delivering course content can be leveraged to provide a more inclusive classroom experience. Our goal is to enable biologists to teach computational skills and use computing in the classroom successfully.
Citation
Wright AM, Schwartz RS, Oaks JR, Newman CE, Flanagan SP (2020). The why, when, and how of computing in biology classrooms. F1000Research. 8. 1854-.
This citation is automatically generated and may be unreliable. Use as a guide only.
Keywords
biology; computation; education; undergraduate
ANZSRC Fields of Research
31 - Biological sciences
39 - Education::3901 - Curriculum and pedagogy::390113 - Science, technology and engineering curriculum and pedagogy
39 - Education::3904 - Specialist studies in education::390405 - Educational technology and computing
Rights
Copyright: © 2020 Wright AM et al. This is an open access article distributed under the terms of the Creative Commons Attribution License, which permits unrestricted use, distribution, and reproduction in any medium, provided the original work is properly cited.
Related items
Showing items related by title, author, creator and subject.
Fabic GVF

;

Mitrovic, Antonija

;

Neshatian K

(

2018

)

Mobile devices are increasingly being utilized for learning due to their unique features including portability for providing ubiquitous experiences. In this paper, we present PyKinetic, a mobile tutor we developed for ...

Fabic GVF

;

Mitrovic, Antonija

;

Neshatian K

(

Springer Science and Business Media LLC

,

2019

)

The overarching goal of our project is to design effective learning activities for PyKinetic, a smartphone Python tutor. In this paper, we present a study using a variant of Parsons problems we designed for PyKinetic. Parsons ...

Tahir F

;

Mitrovic, Antonija

;

Sotardi V

(

Asia-Pacific Society for Computers in Education

,

2019

)

Intelligent Tutoring Systems (ITSs) are effective in supporting learning, as shown in numerous studies. The goal of our project is to develop an adaptive strategy that would be capable of identifying situations during ...