Ultrasonic transmission imaging
(1978)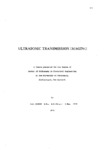 View/Open
Type of Content
Theses / Dissertations
Thesis Discipline
Electrical Engineering
Degree Name
Doctor of Philosophy
Publisher
University of Canterbury
Language
English
Collections
Authors
Dunlop, G. R. (Guy Reginald)
show all
Abstract
The problem of imaging cross sections of opaque bodies by means of ultrasonic transmissions is considered. Images are computed from measurements of ultrasonic propagation delay times through the body section. The grey levels in the image depend on the ultrasonic propagation velocity in the body section.
Conventional ultrasonic pulse-echo imaging is reviewed and its shortcomings are discussed. Ultrasonic transmission measurements are suggested as a way of removing these shortcomings and complementing pulse­echo imaging. The images are obtained by processing ultrasonic propagation time delay measurements in the same manner as X-ray attenuation measurements are processed to produce images in X-ray computed tomography. These X-ray imaging techniques are reviewed in detail.
Multipath ultrasonic propagation complicates the time delay measurements. Measurements on simple objects are used to illustrate the effect of multipath propagation. Propagation time delays are related to phase measurements in a theoretical study of ultrasonic propagation and scattering. The theoretical study of scattering results in an extension to the Rytov approximation. This extended Rytov approximation is shown to produce improved estimates of the phase of scattered radiation.
Numerous problems associated with automatically obtaining ultrasonic time delay measurements are discussed. Images computed from both calculated and measured time delays are presentded to illustrate various points. It is suggested how the measurement system could be improved to yield rapid in vivo measurements.