A Comparison of AMPS Forecasts Near the Ross Sea Polynya With Controlled Meteorological Balloon Observations
(2020)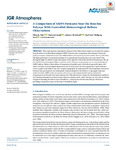 View/Open
Type of Content
Journal Article
Publisher
American Geophysical Union (AGU)
ISSN
2169-897X
2169-8996
Language
en
Collections
Authors
Dale ER
Katurji M
McDonald AJ
Voss P
Rack W
Seto D
show all
Abstract
©2020. American Geophysical Union. All Rights Reserved. This study presents atmospheric boundary layer observations made over the Ross Sea using a long-duration Controlled Meteorological (CMET) balloon and a comparison with Antarctic Mesoscale prediction System (AMPS) forecasts. The CMET balloon was launched on 22 November 2017 at 1230 UTC; this flight performed 31 repeated soundings of the atmospheric boundary layer over a period of 70 hr. During the flight the balloon made close passes of the open Terra Nova Bay and Ross Sea polynyas. We use the AMPS forecast during the flight to understand the influence of the polynya on the air sampled by the CMET balloon. Balloon observations of temperature, humidity, and wind velocity generally agree with AMPS forecasts, with the largest disparities in the wind direction field during periods of light wind and when the path of the balloon was near complex topography. To understand the thermodynamic interaction between these polynyas and the atmospheric volume sampled by the balloon, a Lagrangian trajectory model forced by AMPS winds was used to calculate the total and partial derivatives of potential temperature as well as the total water mixing ratio. This allowed us to assess the thermodynamic profile of the overlying atmospheric boundary layer. Based on analysis of the AMPS forecast, we were able to identify a region of warming air with an area of 20,000 km2, centered over the Ross Sea Polynya which was providing a strong heat source at the time of the balloon flight.
Citation
Dale ER, Katurji M, McDonald AJ, Voss P, Rack W, Seto D (2020). A Comparison of AMPS Forecasts Near the Ross Sea Polynya With Controlled Meteorological Balloon Observations. Journal of Geophysical Research: Atmospheres. 125(20).
This citation is automatically generated and may be unreliable. Use as a guide only.
ANZSRC Fields of Research
04 - Earth Sciences::0401 - Atmospheric Sciences::040105 - Climatology (excl. Climate Change Processes)
04 - Earth Sciences::0401 - Atmospheric Sciences::040102 - Atmospheric Dynamics
03 - Chemical Sciences::0399 - Other Chemical Sciences::039901 - Environmental Chemistry (incl. Atmospheric Chemistry)
Rights
All rights reserved unless otherwise stated