On the Product of Elements with Prescribed Trace
(2020)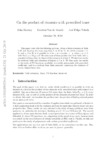 View/Open
Type of Content
Journal Article
Publisher
Cambridge University Press (CUP)
ISSN
1446-7887
1446-8107
Language
en
Collections
Abstract
© 2020 Australian Mathematical Publishing Association Inc. This paper deals with the following problem. Given a finite extension of fields and denoting the trace map from to by, for which elements in, and, in, is it possible to write as a product, where with ? We solve most of these problems for finite fields, with a complete solution when the degree of the extension is at least 5. We also have results for arbitrary fields and extensions of degrees 2, 3 or 4. We then apply our results to the study of perfect nonlinear functions, semifields, irreducible polynomials with prescribed coefficients, and a problem from finite geometry concerning the existence of certain disjoint linear sets.
Citation
Sheekey JOHN, Van De Voorde G, Voloch JF (2020). On the Product of Elements with Prescribed Trace. Journal of the Australian Mathematical Society. 1-25.
This citation is automatically generated and may be unreliable. Use as a guide only.
Keywords
math.CO; Field extension; Trace; PN function; linear set
ANZSRC Fields of Research


01 - Mathematical Sciences::0101 - Pure Mathematics::010104 - Combinatorics and Discrete Mathematics (excl. Physical Combinatorics)
Rights
All rights reserved unless otherwise stated