Comparison of the performance of washcoating variations for Fisher-Tropsch synthesis in a microchannel reactor
(2012)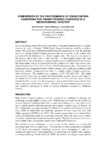 View/Open
Type of Content
Conference Contributions - Published
Publisher
University of Canterbury. Chemical and Process Engineering
Collections
Authors
Penniall, C.,
Williamson, C.,
Marshall, A.T.
show all
Abstract
Interest in biomass based Fischer-Tropsch fuels is currently heightened due to a global focus on the need for biofuels. While Fischer-Tropsch technology could be considered mature with significant worldwide production based on natural gas or coal, the challenge now is to develop Fischer-Tropsch processes that are economic at the smaller scale necessitated by the limitations of a biomass supply chain. The reactor is one aspect of this process and is the focus of this research. A microchannel reactor has been constructed and the performance compared against a more traditional fixed bed reactor. The microchannel reactor is constructed by wire cutting of 0.2 mm 316ss shim to yield channel dimensions of 0.2 × 0.3 × 37 mm with 50 channels per shim. The reactor was washcoated with unsupported cobalt, cobalt on titania, and a combustion synthesis cobalt deposition method. Comparison was made to a simple cobalt on titania catalyst in a fixed bed reactor. The catalysts were compared at 210, 225 and 240°C. The simple unsupported cobalt washcoat catalyst had slightly higher productivity per unit catalyst of all catalysts tested in the microchannel reactor and was 32 to 40 times more effective than the fixed bed reactor over the temperature range tested and also more effective than similar catalyst in a batch slurry reactor. This shows the microchannel reactor system to have significant advantages in terms of catalyst utilization compared to traditional reactors.
Citation
Penniall, C., Williamson, C., Marshall, A.T. (2012) Comparison of the performance of washcoating variations for Fisher-Tropsch synthesis in a microchannel reactor. Wellington, New Zealand: Chemeca2012, 23-26 Sep 2012.
This citation is automatically generated and may be unreliable. Use as a guide only.
ANZSRC Fields of Research
40 - Engineering::4004 - Chemical engineering::400402 - Chemical and thermal processes in energy and combustion