Roadmap for naming uncultivated Archaea and Bacteria
(2020)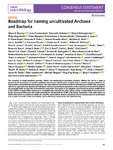 View/Open
Type of Content
Journal Article
Publisher
Springer Science and Business Media LLC
ISSN
2058-5276
Language
eng
Collections
Authors
Murray AE,
Freudenstein J,
Gribaldo S,
Hatzenpichler R,
Hugenholtz P,
Kämpfer P,
Konstantinidis KT,
Lane CE,
Papke RT,
Parks DH,
Rossello-Mora R,
Stott MB,
Sutcliffe IC,
Thrash JC,
Venter SN,
Whitman WB,
Acinas SG,
Amann RI,
Anantharaman K,
Armengaud J,
Baker BJ,
Barco RA,
Bode HB,
Boyd ES,
Brady CL,
Carini P,
Chain PSG,
Colman DR,
DeAngelis KM,
de los Rios MA,
Estrada-de los Santos P,
Dunlap CA,
Eisen JA,
Emerson D,
Ettema TJG,
Eveillard D,
Girguis PR,
Hentschel U,
Hollibaugh JT,
Hug LA,
Inskeep WP,
Ivanova EP,
Klenk HP,
Li WJ,
Lloyd KG,
Löffler FE,
Makhalanyane TP,
Moser DP,
Nunoura T,
Palmer M,
Parro V,
Pedrós-Alió C,
Probst AJ,
Smits THM,
Steen AD,
Steenkamp ET,
Spang A,
Stewart FJ,
Tiedje JM,
Vandamme P,
Wagner M,
Wang FP,
Hedlund BP,
Reysenbach AL
show all
Abstract
© 2020, The Author(s). The assembly of single-amplified genomes (SAGs) and metagenome-assembled genomes (MAGs) has led to a surge in genome-based discoveries of members affiliated with Archaea and Bacteria, bringing with it a need to develop guidelines for nomenclature of uncultivated microorganisms. The International Code of Nomenclature of Prokaryotes (ICNP) only recognizes cultures as 'type material', thereby preventing the naming of uncultivated organisms. In this Consensus Statement, we propose two potential paths to solve this nomenclatural conundrum. One option is the adoption of previously proposed modifications to the ICNP to recognize DNA sequences as acceptable type material; the other option creates a nomenclatural code for uncultivated Archaea and Bacteria that could eventually be merged with the ICNP in the future. Regardless of the path taken, we believe that action is needed now within the scientific community to develop consistent rules for nomenclature of uncultivated taxa in order to provide clarity and stability, and to effectively communicate microbial diversity.
Citation
Murray AE, Freudenstein J, Gribaldo S, Hatzenpichler R, Hugenholtz P, Kämpfer P, Konstantinidis KT, Lane CE, Papke RT, Parks DH, Rossello-Mora R, Stott MB, Sutcliffe IC, Thrash JC, Venter SN, Whitman WB, Acinas SG, Amann RI, Anantharaman K, Armengaud J, Baker BJ, Barco RA, Bode HB, Boyd ES, Brady CL, Carini P, Chain PSG, Colman DR, DeAngelis KM, de los Rios MA, Estrada-de los Santos P, Dunlap CA, Eisen JA, Emerson D, Ettema TJG, Eveillard D, Girguis PR, Hentschel U, Hollibaugh JT, Hug LA, Inskeep WP, Ivanova EP, Klenk HP, Li WJ, Lloyd KG, Löffler FE, Makhalanyane TP, Moser DP, Nunoura T, Palmer M, Parro V, Pedrós-Alió C, Probst AJ, Smits THM, Steen AD, Steenkamp ET, Spang A, Stewart FJ, Tiedje JM, Vandamme P, Wagner M, Wang FP, Hedlund BP, Reysenbach AL (2020). Roadmap for naming uncultivated Archaea and Bacteria. Nature Microbiology. 5. 987-994.
This citation is automatically generated and may be unreliable. Use as a guide only.
ANZSRC Fields of Research
31 - Biological sciences::3104 - Evolutionary biology::310409 - Microbial taxonomy
Rights
Open Access This article is licensed under a Creative Commons Attribution 4.0 International License, which permits use, sharing, adaptation, distribution and reproduction in any medium or format, as long as you give appropriate credit to the original author(s) and the source, provide a link to the Creative Commons license, and indicate if changes were made. The images or other third party material in this article are included in the article's Creative Commons license, unless indicated otherwise in a credit line to the material. If material is not included in the article's Creative Commons license and your intended use is not permitted by statutory regulation or exceeds the permitted use, you will need to obtain permission directly from the copyright holder. To view a copy of this license, visit http://creativecommons. org/licenses/by/4.0/. © The Author(s) 2020