The distributors of change points in long memory processes
(2006)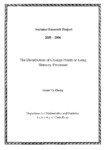 View/Open
Degree Name
Bachelor of Science with Honours
Publisher
University of Canterbury. Mathematics and Statistics
Abstract
In this paper we present the properties of empirical distributions of different statistics (e.g. standard deviation and number of breaks) related to the presence of structural breaks in simulated Fractional Gaussian Noise series with various Hurst parameters. Structural Breaks are detected with Atheoretical Regression Trees, a structural break identification method. The simulation results were applied to four case studies to check whether a Regime Switching or Fractional Gaussian Noise model is more adequate.
Keywords
long-range dependence; strong dependence; global dependence; Hurst phenomena
ANZSRC Fields of Research
01 - Mathematical Sciences::0104 - Statistics
Rights
Copyright Yu Zheng Guan
Related items
Showing items related by title, author, creator and subject.
Hackney M

;

James A

;

Plank MJ

(

Elsevier BV

,

2020

)

Classical fisheries biology aims to optimise fisheries-level outcomes, such as yield or profit, by controlling the fishing effort. This can be adjusted to allow for the effects of environmental stochas- ticity, or noise, ...

Wickramarachchi DC

;

Robertson BL

;

Reale M

;

Price CJ

;

Brown JA

(

Wiley

,

2019

)

This paper presents an algorithm for learning oblique decision trees, called HHCART(G). Our decision tree combines learning concepts from two classification trees, HHCART and Geometric Decision Tree (GDT). HHCART(G) is ...

Binny, R.N.

;

Plank, M.J.

;

James, A.

(

University of Canterbury. Mathematics and Statistics

,

2015

)

The ability of cells to undergo collective movement plays a fundamental role in tissue repair, development and cancer. Interactions occurring at the level of individual cells may lead to the development of spatial structure ...