Locating de-lateralization in the pathway of sound changes affecting coda /l/
(2020)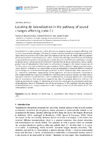 View/Open
Type of Content
Journal Article
Publisher
Ubiquity Press, Ltd.
ISSN
1868-6354
Language
en
Collections
Authors
Strycharczuk P
Derrick, Donald
Shaw J
show all
Abstract
'Vocalization' is a label commonly used to describe an ongoing change in progress affecting coda /l/ in multiple accents of English. The label is directly linked to the loss of consonantal constriction observed in this process, but it also implicitly signals a specific type of change affecting manner of articulation from consonant to vowel, which involves loss of tongue lateralization, the defining property of lateral sounds. In this study, we consider two potential diachronic pathways of change: an abrupt loss of lateralization which follows from the loss of apical constriction, versus slower gradual loss of lateralization that tracks the articulatory changes to the dorsal component of /l/. We present articulatory data from seven speakers of New Zealand English, acquired using a combination of midsagittal and lateral EMA, as well as midsagittal ultrasound. Different stages of sound change are reconstructed through synchronic variation between light, dark, and vocalized /l/, induced by systematic manipulation of the segmental and morphosyntactic environment, and complemented by comparison of different individual articulatory strategies. Our data show a systematic reduction in lateralization that is conditioned by increasing degrees of /l/-darkening and /l/-vocalization. This observation supports the idea of a gradual diachronic shift and the following pathway of change: /l/-darkening, driven by the dorsal gesture, precipitates some loss of lateralization, which is followed by loss of the apical gesture. This pathway indicates that loss of lateralization is an integral component in the changes in manner of articulation of /l/ from consonantal to vocalic.
Citation
Strycharczuk P, Derrick D, Shaw J (2020). Locating de-lateralization in the pathway of sound changes affecting coda /l/. Laboratory Phonology: Journal of the Association for Laboratory Phonology. 11(1).
This citation is automatically generated and may be unreliable. Use as a guide only.
Keywords
liquids; laterals; /l/-darkening; /l/-vocalization; New Zealand English; ultrasound
ANZSRC Fields of Research
47 - Language, communication and culture::4704 - Linguistics::470410 - Phonetics and speech science
Rights
Copyright: © 2020 The Author(s). This is an open-access article distributed under the terms of the Creative Commons Attribution 4.0 International License (CC-BY 4.0), which permits unrestricted use, distribution, and reproduction in any medium, provided the original author and source are credited. See http://creativecommons.org/licenses/by/4.0/.
Related items
Showing items related by title, author, creator and subject.
Bicevskis K

;

Derrick, Donald

;

Gick B

(

Acoustical Society of America (ASA)

,

2016

)

© 2016 Acoustical Society of America. Audio-visual [McGurk and MacDonald (1976). Nature 264, 746-748] and audio-tactile [Gick and Derrick (2009). Nature 462(7272), 502-504] speech stimuli enhance speech perception over ...

Derrick, Donald

;

Stavness, I.

;

Gick, B.

(

University of Canterbury. New Zealand Institute of Language, Brain & Behaviour

,

2015

)

The assumption that units of speech production bear a one-to-one relationship to speech motor actions pervades otherwise widely varying theories of speech motor behavior. This speech produc- tion and simulation study ...

Shaw, J.

;

Wei-rong, C.

;

Proctor, M.I.

;

Derrick, Donald

;

Dakhoul, E.

(

University of Canterbury. New Zealand Institute of Language, Brain & Behaviour

,

2014

)

We studied tone-vowel coproduction using Electromagnetic Articulography (EMA). Fleshpoints on the tongue and jaw were tracked while native Chinese speakers (n = 6) produced three vowels, /a/, /i/, /u/, combined with ...