Declarations of Inconsistency under the New Zealand Bill of Rights Act 1990
(2018)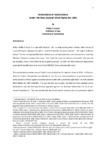 View/Open
Type of Content
Journal Article
Collections
Abstract
This commentary examines one of Taylor's cases decided by the Supreme Court in 2018. In AttorneyGeneral v Taylor, the question was whether or not the courts have jurisdiction to grant declarations of inconsistency where legislation cannot be reconciled with a protected right under the New Zealand Bill of Rights Act 1990 (NZBORA). This was the first case in which the High Court had granted such a declaration, and the Attorney-General appealed against the decisions below that the Court was seized of jurisdiction. The case involved the Key Government's statutory ban on a prisoner's right to vote in a general election. On appeal, it was common ground that the statutory ban was inconsistent with the right to vote affirmed in s 12(a) of the NZBORA.
Citation
Joseph P (2018). Declarations of Inconsistency under the New Zealand Bill of Rights Act 1990. Public Law Review. 30. 1-6.
This citation is automatically generated and may be unreliable. Use as a guide only.
ANZSRC Fields of Research
48 - Law and legal studies::4807 - Public law::480703 - Domestic human rights law
Rights
All rights reserved unless otherwise stated