Theoretical studies on space debris recycling and energy conversion system in the International Space Station
(2020)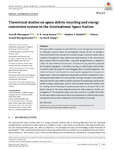 View/Open
Type of Content
Journal Article
ISSN
2577-8196
Collections
Authors
Mariappan A,
Kumar VRS,
Weddell S,
Muruganandan VA,
Jeung, In-Seuck
show all
Abstract
The space debris management and alleviation in the microgravity environment is a dynamic research theme of contemporary interest. Herein, we provide a theoretical proof of the concept of a lucrative energy conversion system that is capable of changing the space debris into useful powders in the International Space Station (ISS) for various bids. A specially designed broom is adapted to collect the space debris of various sizes. An optical sorting method is proposed for the debris segregation in the ISS by creating an artificial gravitational field. It could be done by using the frame-dragging effect or gravitomagnetism. An induction furnace is facilitated for converting the segregated metal-scrap into liquid metal. A fuel-cell aided water atomization method is proposed for transforming the liquid debris into metal powder. The high-energetic metal powders obtained from the space debris could be employed for producing propellants for useful aerospace applications, and the silicon powder obtained could be used for making soil for fostering the pharmaceutical-flora in the space lab in the future aiming for the scarce-drug discoveries for high-endurance health care management. The proposed energy conversion system is a possible alternative for the space debris extenuation and its real applications in orbiting laboratories through the international collaboration for the benefits to humanity.
Citation
Mariappan A, Kumar VRS, Weddell S, Muruganandan VA (2020). Theoretical studies on space debris recycling and energy conversion system in the International Space Station. Wiley Engineering Reports. 1-12.
This citation is automatically generated and may be unreliable. Use as a guide only.
Keywords
drugs discovery; energy conversion system in microgravity; pharmaceutical flora; space debris mitigation; space lab; medicinal plants in the International Space Station
ANZSRC Fields of Research
40 - Engineering::4001 - Aerospace engineering::400101 - Aerospace materials
40 - Engineering::4001 - Aerospace engineering::400199 - Aerospace engineering not elsewhere classified
Rights
This is an open access article under the terms of the Creative Commons Attribution License, which permits use, distribution and reproduction in any medium, provided the original work is properly cited. © 2020 The Authors. Engineering Reports published by John Wiley & Sons Ltd.
Related items
Showing items related by title, author, creator and subject.
Molina, Jennifer Rose

(

University of Canterbury. School of Political Science and Communication

,

2006

)

This thesis examines the impact of outdoor advertising on public space, by situating outdoor advertising within arguments about global corporate domination. I argue that the implosion of commercial messages into ever-increasing ...

Richardson, E.A.

;

Pearce, J.

;

Mitchell, R.J.

;

Day, P.

;

Kingham, S.

(

University of Canterbury. Geography

,

2010

)

Background: There is mounting international evidence that exposure to green environments is associated with health benefits, including lower mortality rates. Consequently, it has been suggested that the uneven distribution ...

Matthews, Evan

(

University of Canterbury. Gender Studies

,

2013

)

This thesis explores young people's transgenderings through negotiations of language, bodies and experiences of different peer and community-based support spaces in Aotearoa New Zealand. It critically examines what 'support' ...