Dispersion in natural channels
(1974)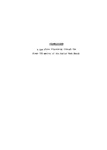 View/Open
Type of Content
Theses / Dissertations
Thesis Discipline
Geography
Degree Name
Doctor of Philosophy
Publisher
University of Canterbury
Language
English
Collections
Abstract
This thesis, concerning the longitudinal dispersion of fluid part­ icles in natural river channels, was prompted by the discrepancies associated with the Fickian analogy. Its primary focus is the compre­ hensive definition of the dispersion pattern for a range of channel scales and mean velocities.
It is conclusively shown that the spread or standard deviation of an initially concentrated mass increases linearly with distance and not as its square root. The Fickian analogy is clearly incorrect. The longitudinal dispersion coefficient is shown to be a function of distance, a result of the continual modification of the leading edge of the time-concentration curve. The time-concentration curves remain skewed in the upstream direction; there is no indication that a normal distribution eventually develops. This asymmet ry, characteristic to all natural channel data, results from the fundamental structure of the dispersion process. The mechanisms leading to this non-Fickian behaviour, remain, however, speculative.
A dimensionless form for a time-concentration curve is developed. The dispersion process is shown to behave in a self-similar manner with its kinematic relations and the dimensionless form of the concentration distribution remaining similar throughout the duration of the movement. This self-similar structure, although influenced by the boundary conditions and the distribution of velocities in the cross-section, remains remarkably similar over a wide range of steep gravel and boulder bed channels.
A new method for prediction of the dispersion pattern is developed. This method is based upon the coordinates of the dimensionless form, the linearity of its scaling parameters and the basic dilution equation. A tracer experiment is required for determination of the hydraulic parameters. As yet, the method is limited to mountain channels, and then only beyond the mixing length.
Rights
All Rights Reserved