International Journal for Intersectional Feminist Studies, Volume 6, Issue 1-2, December 2020, ISSN 2463-2945 An Investigation into the Challenges Preventing Girls Child From Going to Universal Basic Education in Gwagwalada Area Council of F.C.T, Abuja, Nigeria
(2020)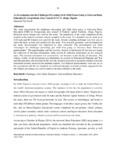 View/Open
Type of Content
Journal Article
Publisher
Project Monma Research Centre
ISSN
2463-2945
Abstract
The study investigated the challenges preventing girl child from going to Universal Basic Education (UBE) in Gwagwalada area council of Federal Capital Territory, Abuja, Nigeria. Research survey design was used for the study. The population of the study comprised all the teachers in the selected ten basic schools sampled for the study. Two hundred teacher made up of (120 male and 80 females) was used for the study. Simply sampling technique was first used to select the basic schools and teachers for the study. Two research questions were developed for the study. Questionnaire was employed for data collection. The questionnaire was titled "investigate the challenges preventing girl child from going to Universal Basic Education questionnaire". The questionnaire had two sections. Section A and Section B. Section was meant for collection of bio-data information while section B collected information on the research topic. The research instrument was corrected by two lecturers in the faculty of education. The content validity of the instrument was determined by experts in Educational Planning and Test and Measurement who matched all the with the research questions to ascertain whether or not the instrument actually measured the intended content. Two hundred questionnaires were sent out to the respondents and the two hundred was collected through a research assistant engaged for the job. Simply percentage was used to analyze the data collected in the study.
Rights
Creative Commons Attribution 4.0 International License.
Except where otherwise noted, this item's license is described as Creative Commons Attribution 4.0 International License.
Related items
Showing items related by title, author, creator and subject.
Davis, N.E.

;

Fields, A.

;

Hartnett, M.

(

University of Canterbury. School of Educational Studies and Leadership

,

2016

)

Although the potential to increase equitable access to education is threatened by economic and technical developments, the Journal of Open, Flexible and Distance Learning is working to address these threats. This editorial ...

Tahir F

;

Sotardi V

;

Mitrovic, Antonija

(

Springer LNAI 12749

,

2021

)

Goal setting is a vital component of self-regulated learning. Numerous studies show that selecting challenging goals has strong positive effects on performance. We investigate the effect of support for goal setting in ...

The Responsibility to Protect (R2P), as a project intended to avert or end mass atrocities, incorporates both preventative and interventionist dimensions. This article begins with an overview of the place of prevention ...