An integrated assessment of the global virtual water trade network of energy
(2020)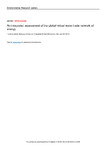 View/Open
Type of Content
Journal Article
Publisher
IOP Publishing
ISSN
1748-9326
Collections
Abstract
The global trade of energy allows for the distribution of the world's collective energy resources and, therefore, an increase in energy access. However, this network of trade also generates a network of virtually traded resources that have been used to produce energy commodities. An integrated database of energy trade water footprints is necessary to capture interrelated energy and water concerns of a globalized economy,and is also motivated by current climate and population trends. Here, we quantify and present the virtual water embedded in energy trade across the globe from 2012 to 2018, building on previous water footprinting and energy virtual water trade studies to create an integrated database. We use data from the United Nations Comtrade database and combine several literature estimates of water consumption of energy commodities to generate the global virtual water trade network. Results include a comprehensive database of virtual water trade for energy at the country level, greatly expanding the literature availability on virtual water trade. The total volume of virtual water trade increased 35% from 157 km3 in 2012 to 211 km3 in 2018. The global trade of oil and fuelwood are consistent drivers of virtual water trade over time, whereas coal, hydrocarbons, and charcoal collectively contribute less than 4% of total virtual water trade between 2012 and 2018. Electricity, despite a less dense trade network constrained by infrastructure, contributes notably to virtual water trade, driven largely by water use for hydroelectricity. This study develops an integrated assessment of previous virtual water studies to estimate global virtual water trade of energy, creating a platform for future global studies.
Citation
Peer RAM, Chini CM An integrated assessment of the global virtual water trade network of energy. Environmental Research Letters. 15(11). 114015-114015.
This citation is automatically generated and may be unreliable. Use as a guide only.
Keywords
virtual water; energy trade; water energy nexus; water footprints
ANZSRC Fields of Research
40 - Engineering::4019 - Resources engineering and extractive metallurgy::401999 - Resources engineering and extractive metallurgy not elsewhere classified
38 - Economics::3801 - Applied economics::380105 - Environment and resource economics
38 - Economics::3801 - Applied economics::380110 - International economics
Rights
Original Content from this work may be used under the terms of the Creative Commons Attribution 4.0 licence. Any further distribution of this work must maintain attribution to the author(s) and the title of the work, journal citation and DOI. (CC BY)
Related items
Showing items related by title, author, creator and subject.
Leon P

;

Murray R

;

Krumdieck S

;

Gallardo, Patricio

(

2018

)

Freight transportation has always been essential for trade and prosperity. The geographic economic accessibility to trade has expanded with modern use of fossil fuels. Geographic economic accessibility (GEA) is a measure ...

Prabodanie, R.A.R.

;

Raffensperger, J.F.

;

Read, E.G.

;

Milke, M.W.

(

University of Canterbury. Civil and Natural Resources EngineeringUniversity of Canterbury. Management

,

2011

)

Nitrate discharges from diffuse agricultural sources significantly contribute to groundwater and surface water pollution. Tradable permit programs have been proposed as a means of controlling nitrate emissions efficiently, ...

Martin-Treceno S

;

Hughes T

;

Bishop C

;

Brown I

;

Jia Y

;

Marshall A

;

Watson MJ

(

2018

)

A new process to produce affordable titanium metal has the potential to widen its use. In New Zealand, up to 200,000 tonnes/year of Ti-rich slag is available as a by-product of the steelmaking process. Recently, molten ...