Incommensurable Values: Environment Canterbury and Local Democracy
(2017)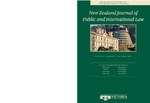 View/Open
Type of Content
Journal Article
ISSN
1176-3930
Collections
Abstract
Following years of delayed processing of resource consent applications by the regional council, Environment Canterbury, the New Zealand Parliament passed the Environment Canterbury (Temporary Commissioners and Improved Water Management) Act 2010, which replaced the elected councillors with government-appointed commissioners. This raised the question under which circumstances and to what extent Parliament should be able to interfere in local democracy. Local democracy is a vital part of the general democratic health of a constitutional system. It contributes to pluralism and the diffusion of power, and it enables better direct citizen participation in local decision-making. However, an inefficient local authority has adverse effects on the local, and potentially national, economy and well-being. The evaluation of democratic versus economic interests proves to be difficult, as these values are incommensurate: they are founded on mostly unrelated considerations and therefore lack a common foundation on which to base a comparison. Historically, when faced with deciding between these issues, governments have tended to side with the economic interests. That means that democratic considerations are generally mostly disregarded. Due to the importance of democratic structures to the constitutional system, this status quo is unacceptable. In order to better reflect democratic considerations in such decision-making processes, local government institutions must be strengthened, be it by political or constitutional means.
Citation
Mueller SD (2017). Incommensurable Values: Environment Canterbury and Local Democracy. New Zealand Journal of Public and International Law. 15(2). 293-312.
This citation is automatically generated and may be unreliable. Use as a guide only.
ANZSRC Fields of Research
48 - Law and legal studies::4807 - Public law::480701 - Administrative law
Rights
All rights reserved unless otherwise stated