Explanation of Photon Navigation in the Mach-Zehnder Interferometer
(2020)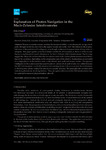 Type of Content
Journal Article
Publisher
MDPI AG
ISSN
2673-3269
Language
en
Collections
Abstract
Photons in interferometers manifest the functional ability to simultaneously navigate both paths through the device, but eventually appear at only one outlet. How this relates to the physical behaviour of the particle is still ambiguous, even though mathematical representation of the problem is adequate. This paper applies a non-local hidden-variable (NLHV) solution, in the form of the Cordus theory, to explain photon path dilemmas in the Mach–Zehnder (MZ) interferometer. The findings suggest that the partial mirrors direct the two reactive ends of the Cordus photon structures to different legs of the apparatus, depending on the energisation state of the photon. Explanations are provided for a single photon in the interferometer in the default, open-path, and sample modes. The apparent intelligence in the system is not because the photon knows which path to take, but rather because the MZ interferometer is a finely-tuned photon-sorting device that auto-corrects for randomness in the frequency phase to direct the photon to a specific detector. The principles also explain other tunnelling phenomena involving barriers. Thus, navigation dilemmas in the MZ interferometer may be explained in terms of physical realism after all.
Citation
Pons DJ Explanation of Photon Navigation in the Mach-Zehnder Interferometer. Optics. 1(3). 243-254.
This citation is automatically generated and may be unreliable. Use as a guide only.
Keywords
photon locality; interferometer
ANZSRC Fields of Research
51 - Physical sciences::5102 - Atomic, molecular and optical physics::510204 - Photonics, optoelectronics and optical communications
51 - Physical sciences::5107 - Particle and high energy physics::510703 - Particle physics
Rights
All rights reserved unless otherwise stated