Cretaceous stratigraphy of the Mt. Lookout area and its relation to the proposed regional unconformity at the end of the Rangitata orogeny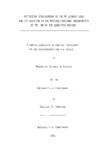 Author
Montague, Theodore G.
Date
1981
Thesis Discipline
Geology
Degree Grantor
University of Canterbury
Degree Name
Master of Science
This thesis examines the relationship between Torlesse-like rocks and overlying Motuan, Urutawan (Albian) rocks in the area around Mt. Lookout, central Marlborough. Previous geologists working in Marlborough have supported either a regional unconformity separating Torlesse-like from overlying rocks (e.g. Gair 1967, Laird 1980) or continuous sedimentation between Torlesse-like and overlying rocks (e.g. Wellman 1959, Lensen 1962). Torlesse-like rocks (the Tone Fm) form the stratigraphic basement in the area and are thought to be Lower Cretaceous in age. Six Clarence aged units overlap unconformably onto the Torlesse-like basement and are incised into each other with local angular discordance. The Totara Fm (Urutawan?), the Gladstone Fm (Motuan) , the Lower Winterton Fm (Motuan) , the Upper Winterton Fm (Motuan) , and the Castle Creek Conglomerate are a series of discrete sedimentary cycles three of which clearly show a fining upwards pattern from conglomerates and sandstones to massive mudstone. The composition, lithology, metamorphic rank, and structure of all units of Motuan or older age were studied and compared. The results from this analysis show that the overlying Motuan-Urutawan rocks are lithologically, depositionally, compositionally, and metamorphically similar to the underlying Torlesse-like rocks and that at no horizon is there a radical change. Although there was a clear structural break between Torlesse-like and Motuan rocks in the George River, the structural distinction of Torlesse and post Torlesse rocks in the Winterton River is subtle. These results suggest that both the Torlesse-like and the overlying Urutawan-Motuan strata represent sedimentation during the Rangitata Orogeny and that the change from Rangitata to post Rangitata conditions was evolutionary and cannot be fixed to a specific time.
Collections