Continuum Modelling and Representations of Interfaces and their Transitions in Materials
(2006)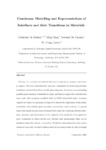 View/Open
Type of Content
Journal Article
Publisher
Elsevier BV
ISSN
0921-5093
Language
en
Collections
Authors
Bishop CM
Tang M
Cannon RM
Carter WC
show all
Abstract
Evidence for internal and external interface transitions in ceramics and metals is copious. The work described here lays out a framework for predicting interface transitions and including them on bulk phase diagrams. Advances in understanding possible grain boundary transitions in single- and binary-component materials have been made with energetics modelled with the phase-field model due to Kobayashi, Warren and Carter. Analyses inspired by Cahn's critical point wetting work allowed the exploration of the stable, metastable, and unstable grain boundary compositions and structures. A general phase-field model has also been developed that allows the couplings between chemistry, structure, and electrostatics to be explored. This model has been applied to grain boundaries in silicon nitride and indicates that intergranular films can be stabilized below the eutectic temperature. Predictive information from the models presented here could be used to inform material processing routes in order to design for interface structures and so bulk properties. © 2006 Elsevier B.V. All rights reserved.
Citation
Bishop CM, Tang M, Cannon RM, Carter WC (2006). Continuum Modelling and Representations of Interfaces and their Transitions in Materials. Materials Science and Engineering A. 422(1-2). 102-114.
This citation is automatically generated and may be unreliable. Use as a guide only.
Keywords
phase-field model; grain boundary wetting; thermodynamics; ceramics; interface structure
ANZSRC Fields of Research
40 - Engineering::4016 - Materials engineering
Related items
Showing items related by title, author, creator and subject.