The effects of network structure and geography on the spread of epidemics in finite populations
(2008)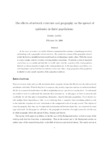 View/Open
Degree Name
Bachelor of Science with Honours
Publisher
University of Canterbury. Mathematics and Statistics
Abstract
In this paper we create a new model of disease transmission that combines a branching process from epidemiology with a geographic network structure. We present two versions of this geographic network model, the first is a simplified network model based on a 2-dimensional regular lattice. While the second is a more complex network structure with long distance connections. We present a series of numerical results from our two models and find that for the 2D lattice that the proportion of the total population infected by a disease depends strongly on the total population size. In the long distance model there is no such dependence and we find that two infection states exist; either a large proportion of the population is infected or only a small proportion of the population is infected.
ANZSRC Fields of Research
01 - Mathematical Sciences::0102 - Applied Mathematics
Rights
Copyright Kieran Gourley
Related items
Showing items related by title, author, creator and subject.
Chang JC

;

Brennan KC

;

He D

;

Huang H

;

Miura RM

;

Wilson PL

;

Wylie JJ

(

PUBLIC LIBRARY SCIENCE

,

2013

)

Cortical spreading depression (CSD) is a slow-moving ionic and metabolic disturbance that propagates in cortical brain tissue. In addition to massive cellular depolarizations, CSD also involves significant changes in ...

Francis A

;

Semple C

;

Steel M

(

2017

)

Phylogenetic networks are a type of directed acyclic graph that represent how a set X of present-day species are descended from a common ancestor by processes of speciation and reticulate evolution. In the absence of ...

Li Y-Z

;

Mourier P

;

Buchert T

;

Wiltshire DL

(

2018

)

We extend the general relativistic Lagrangian perturbation theory, recently developed for the formation of cosmic structures in a dust continuum, to the case of model universes containing a single fluid with a single–valued ...