A preliminary study on cyclic behaviour of SFS dowelled connections in glulam frames
(2019)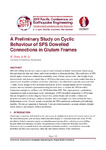 View/Open
Type of Content
Conference Contributions - Published
Collections
Abstract
SFS self-drilling dowels are a special type of metal fasteners in timber construction which can go through relatively thin steel plates and timber members without pre-drilling. The application of SFS dowels makes wood-steel connection assembling more efficient and accurate. Due to tight fitting between holes and fasteners, initial slips in SFS dowelled connections are much smaller than that in conventional dowelled or bolted connections which have predrilled holes typically oversized with 1~2mm. So far, design of SFS dowelled connections in New Zealand mainly follows European practice and very limited experimental testing has been done to validate the SFS dowelled connection strength and stiffness with NZ Radiata Pine (RP). This paper presents a preliminary experimental study to investigate cyclic performance of SFS dowelled connections in RP glulam that are designed to connect diagonal braces with glulam beams and columns. Connection properties in terms of strength, stiffness, ductility and overstrength were derived from the forcedisplacement curves. The test results showed that the SFS connections performed well with high ductility. The design equations in Eurocode 5 also provided reasonably accurate ultimate strength, initial stiffness and ultimate stiffness predictions.
Citation
Dong W, Li M (2019). A preliminary study on cyclic behaviour of SFS dowelled connections in glulam frames. Auckland, New Zealand: 11th Pacific Conference on Earthquake Engineering (PCEE). 04/04/2019-06/04/2019. PCEE2019 Papers.
This citation is automatically generated and may be unreliable. Use as a guide only.
ANZSRC Fields of Research
09 - Engineering::0905 - Civil Engineering::090506 - Structural Engineering
09 - Engineering::0905 - Civil Engineering::090504 - Earthquake Engineering
09 - Engineering::0905 - Civil Engineering::090503 - Construction Materials
Rights
All rights reserved unless otherwise stated