Spawning in sympatric alpine galaxias (Galaxias paucispondylus Stokell) and longjawed galaxias (G. prognathus Stokell) in a South Island, New Zealand, high-country stream
(1992)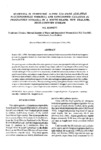 View/Open
Type of Content
Journal Article
Publisher
New Zealand Natural Sciences
ISSN
0113 - 7492
Collections
Rights
CC-BY 4.0 International
Related items
Showing items related by title, author, creator and subject.
Williams, Alwyn

(

University of Canterbury. Forestry

,

2010

)

Podocarpus cunninghamii is an endemic New Zealand conifer that, in pre-human times, formed extensive forest communities across the eastern South Island high country. Anthropogenic disturbances have reduced the distribution ...

Wilson, Ronald Kincaid

(

University of Canterbury. Geography

,

1949

)

During recent years the high country of the South Island has attracted a good deal of attention from farm economists, soil conservationists, geographers and also politicians. With the present need for increased national ...

Brower, Ann

;

Harding, Michael A.C.

;

Head, N.J.

;

Walker, Susan

(

New Zealand Ecological Society

,

2020

)

New Zealand has a unique opportunity to reshape the future of 1.2 million hectares, or 5% of the country. Since 1990, land clearance and development in the South Island high country have removed large areas of native ...