Limit design of reinforced concrete slabs : openings and slab-column connections
(1973)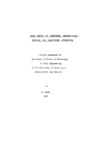 View/Open
Type of Content
Theses / Dissertations
Thesis Discipline
Civil Engineering
Degree Name
Doctor of Philosophy
Publisher
University of Canterbury
Language
English
Collections
Abstract
This thesis is concerned with two aspects of the limit design methods of reinforced concrete slabs.
The first part deals with a theoretical investigation of uniformly loaded two-way rectangular slabs with four positions of rectangular openings, namely the slab centre, the slab corner, the centre of a short side and the centre of a long side. Yield-line theory was used to derive equations and design charts suitable for the limit design of such slabs reinforced orthotropically with edges either all fixed or all simply supported.
The second part involves theoretical and experimental investigations on the transfer of shear and unbalanced moments at interior flat plate-column connections. Tests were conducted on half scale reinforced concrete models under monotonic and cyclic loading to determine the deterioration of load carrying capacity and ductility which would occur under earthquake loadings. Ultimate strength procedures were developed to predict the load carrying capacity of slab-column connections with and without shear reinforcement. Good agreement was obtained between the experimental and theoretical strength of such connections. Of the various types of shear reinforcement tested (cranked bars, structural steel shearheads and vertical closed stirrups) the use of closed stirrups passing round the top and bottom slab bars in the vicinity of the column faces proved to be most effective.