Discrete system analysis using continuous Padé approximations.
(1983)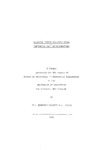 View/Open
Type of Content
Theses / Dissertations
Thesis Discipline
Electrical Engineering
Degree Name
Doctor of Philosophy
Publisher
University of Canterbury
Language
English
Collections
Abstract
Continuous systems are often emulated by discrete systems. This thesis analyses such emulations by substituting ans-domain Padé approximant for the time delay operator. The result is a "quasi-continuous" model of the discrete system which is effectively a distorted case of the continuous system being emulated. Thus the size of the distortions is a measure of emulation accuracy. The best quasi-continuous models have a one to one correspondence with the continuous system.
SISO transfer functions have been studied using low order approximants leading to simple expressions for distortion, and simple methods of compensating the discrete system by pre-warping its parameters. Higher order approximants result in complex models which are simplified by Padé reduction techniques giving a more accurate distortion measure.
In addition MIMO matrix formulations have been developed for cases when the system structure is both constrained and unconstrained. The constrained case leads to more difficult formulations.
Overall the method gives useful results for comparing and improving discrete systems.