Bilinear control of a binary distillation column.
(1991)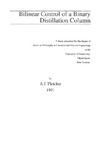 View/Open
Type of Content
Electronic Thesis or Dissertation
Thesis Discipline
Chemical Engineering
Degree Name
Doctor of Philosophy
Publisher
University of Canterbury
Language
English
Collections
Abstract
Bilinear systems are an attractive alternative to the traditional linearisation approach for many chemical plant items. Techniques for the identification and control of discrete time bilinear systems were examined and developed.
The performance of four reccursive identification methods was compared for a discrete bilinear system with white noise contamination of the output. Reccursive least squares methods gave the best performance for a number of criteria. A reccursive maximum likelihood gave similar performance to standard reccursive least squares despite having double the computational requirements.
A design method for a discrete time, globally asymptotically stabilising, optimal controller with a quadratic performance function was developed based on the solution to the algebraic matrix Riccati equation. The controller design was successfully and safely applied to both simulated and pilot scale, constant volume, heated tank systems and a simulated binary distillation column.
Application of the discrete-time, bilinear controller to the heated tank system gave good control over the full operating range. Conventional linear and PID controllers, while accurate near the tuning point, were unable to cope when away from this region. The linear controller gave large steady state offset, while the PID controller suffered from stability problems. A method of deadtime compensation, based on a discrete time bilinear model of the system, reduced deadtime induced overshoot after set point changes or disturbances, however, steady state offset resulted, due to the amplification of errors in the model.
The discrete bilinear controller gave good, safe, control of a simulated binary distillation column. A reduction in steady state offset was observed when compared to a linear optimal regulator with similar weighting matrices. The weakly bilinear nature of the distillation simulation did not threaten the stability of either the linear regulator or a PID controller with static decoupling. Versions of both the linear regulator and bilinear controller with added integral action gave almost identical performance. The presence of integral action dominated the system response.
Significant improvements in control and safety may be achieved for strongly bilinear systems such as the constant volume heated tank. For systems which display weak bilinearity, such as the distillation simulation, the bilinear controller may improve the steady state performance, eliminating the need for controllers with integral action in some applications.