Process, system and apparatus for machine colour characterisation of digital media
(2018)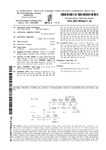 View/Open
Type of Content
Intellectual Property
Collections
Authors
Clark, Adrian,
Looser, Julian
show all
Abstract
Aspects of the present invention provide machine colour characterisation for augmented reality. A process of ma o chine colour characterisation for digital images comprises generating colour model data for each of a set of colour categories de - pendent on colour captured in example digital media from example colours in an example image, the colour model data for each col - our category defining a constraint in a colour space. The constraint is defined dependent on a set of example pixels of the example o digital media, and the process comprising relating pixels of the image to be characterised to the constraint of one or more colour models to identify colour categories for the pixels of the image to be characterized to characterise the digital image. A transformation o is computed for a mean of the example pixels expressed using colour components to the origin of the R,G, B cube and transforms one or more axes determined for the pixels to align with R,G or B axes. A constraint may be defined as a first bounding volume. The bounding volume may be a bounding volume corresponding to ranges of example pixels of one example colour in the R, G, B cube.
Citation
Clark A, Looser J (2018). Process, system and apparatus for machine colour characterisation of digital media. Worldwide..
This citation is automatically generated and may be unreliable. Use as a guide only.
ANZSRC Fields of Research
08 - Information and Computing Sciences::0801 - Artificial Intelligence and Image Processing::080111 - Virtual Reality and Related Simulation
46 - Information and computing sciences::4603 - Computer vision and multimedia computation::460306 - Image processing
Rights
All rights reserved unless otherwise stated