Texture mapping system and method
(2018)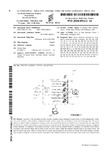 View/Open
Type of Content
Intellectual Property
Alternative Title
Texture mapping system and method: international application published under the Patent Cooperation Treaty
Abstract
Abstract: An aspect of the invention provides a texture mapping system configured to map texture to a three-dimensional model. The system includes a video renderer configured to render captured image data on a display to create rendered image data. The system includes a stencil renderer configured to generate at least one stencil from at least one model stored in a model data store, and render the at least one stencil on the display to create at least one rendered stencil. The system includes a transformation manager configured to map a plurality of coordinates on the display associated to the at least one rendered stencil to a plurality of coordinates on the display associated to the rendered image data to create at least one active region within the rendered stencil having an associated texture, and map the at least one active region to at least part of a texture map associated to the at least one model. The system includes a texture map manager configured to copy the texture associated to the rendered stencil to the at least part of the texture map mapped to the [missing text]
Citation
Clark A (2018). Texture mapping system and method. Worldwide..
This citation is automatically generated and may be unreliable. Use as a guide only.
ANZSRC Fields of Research
46 - Information and computing sciences::4603 - Computer vision and multimedia computation::460306 - Image processing
08 - Information and Computing Sciences::0801 - Artificial Intelligence and Image Processing::080103 - Computer Graphics
Rights
All rights reserved unless otherwise stated
Related items
Showing items related by title, author, creator and subject.
Clark, Adrian

;

Looser, Julian

(

2018

)

Aspects of the present invention provide machine colour characterisation for augmented reality. A process of ma o chine colour characterisation for digital images comprises generating colour model data for each of a set ...

Mukundan, R.

(

Science Gate PublishingUniversity of Canterbury. Computer Science and Software Engineering

,

2014

)

Orthogonal moment functions based on Tchebichef polynomials have found several applications in the field of image analysis because of their superior feature representation capabilities. Local features represented by such ...

Young M

;

Pretty C

;

Agostinho S

;

Green R

;

Chen X

(

MDPI AG

,

2019

)

Point normal calculation and cloud registration are two of the most common operations in point cloud processing. However, both are vulnerable to issues of numerical precision and loss of significance. This paper documents ...