The poetry of the numinous : a study of imagery in the poetry of Ursula Bethell.
(1981)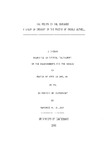 View/Open
Type of Content
Electronic Thesis or Dissertation
Thesis Discipline
English
Degree Name
Master of Arts
Publisher
University of Canterbury
Language
English
Collections
Authors
Hillock, Margaret Wishart
show all
Abstract
In this study of the use of imagery in the work of Ursula Bethell, I have set out to examine the two aspects of her poetry: the visual and the visionary. Both of these aspects play a vital role in her exploration of metaphysical themes of Man's existence and his relationship to Nature. Miss Bethell drew her imagery from elements of Nature and I have looked at the way in which she has attempted to define Man's relationship with Nature in terms of this imagery.
Rights
All Rights Reserved